Term 3, Week 8 - Monday 30 August 2021
Principal's Report
Dear Parents
Firstly, thank you all for the way that you've adapted to the new balance of life under lockdown. To maximise the safety of our school family I encourage you (parents and students 16+), if you haven't already had the vaccination, to utilise the walk-in vax clinic in Cowra on September 3 and 4.
You will have received the 2021 Parents Guide for Remote/Online Learning. The purpose of this document is to provide clarity and consistency about how online learning will happen at St Raphs during lockdown. Adjusting expectations according to the age of children and making the process sustainable in a variety of family contexts are both crucial. As the lockdown time extends we all need to create a balanced routine that maintains engagement in learning, connection with friends and space for fun. Please feel welcome to make contact with teachers if you or your child(ren) require guidance.
As parents we do all in our power to protect our children and keep them safe. Sometimes that asks tough questions of us and requires tough conversations to be had and tough actions to be taken. Children growing through their teen years face immense numbers of choices and opportunities that can make life quite complicated for them. Technology and social media both liberate and complicate. The work of the school in this area doesn't let us parents off the hook – we have to be actively engaged in monitoring and talking with our children. Please be vigilant, particularly in the current high tech environment of COVID restrictions.
We will keep you informed of any changes of regulations that impact the learning of our children. The "road map" outlined by the State Education Minister on Friday requires plenty of additional details and, as those details come to light, we will get the information to you in plenty of time. We have that part covered for you, so don't worry.
Michael Gallagher
Principal
Faith & Life
Every good and perfect gift is from above, coming down from the Father of the heavenly lights, who does not change like shifting shadows. James 1:17
Live Stream Mass from St Raphael's Church

As of last Sunday 29 August, the Parish will be live-streaming Mass from St Raphael's Church on their Facebook page. Join us at 9am each Sunday by clicking on this link
What's On This Week
Focus on Families
#Be Mary MacKillop Today
Welcome to our last week of the #Being Mary MacKillop Today project. This week's intention is about how we can be of service in our school, parish and wider community. All K-3 students received a mindfulness colouring of the Mary MacKillop Quote in their Home Learning Pack this week. I have also included it in this newsletter if you would like to print it off.
Father's Day:
This year for Father's Day, we are putting together a short Liturgy. We would love some photos of our dads, Granddads and fatherly figures with our students to include in the video. Please email your photos to me at n.twohill-scott@bth.catholic.edu.au by Wednesday of this week. The Liturgy will be sent to you via Compass on Friday.
Helpful Prayer and Mass Resources:
There are lots of great online resources out at the moment for you to view and use. Here are just a few:
connect@home- This is a daily prayer resource based on the scripture readings of the day. It is produced by our own Diocese and written by our priests and deacons. Simply just go to the Bathurst Diocese website and register your interest to receive the daily email. https://www.bathurst.catholic.org.au
Live Stream Sunday Mass: As of last Sunday 29 August, the Parish will be live-streaming Mass from St Raphael's Church on their Facebook page. Join us at 9am each Sunday by clicking on this link https://www.facebook.com/straphaelscowra2014/
Live Stream Angelus: Each day the Parish of St Mary's, Mudgee live streams the Angelus at 12:00noon. Just head to their Facebook page and you will be able to view and pray along.
Live Stream Mass: Each day the Parish of St Mary and St Joseph's, Orange live streams daily Mass at 7pm. Head to their Facebook page to view.
Diocesan Word and Faith Groups: The Diocese is also running Word and Faith Groups. These will be held via Zoom at the following dates and times:
Tuesday 31st August @ 7:30pm

Thursday, 2nd September @ Midday
Friday, 3rd September @ 9:00am
Use the link below to join these meetings.
https://bthcatholic.zoom.us/j/4582615130
Parish Word and Faith Groups: Two of our Parishes are also offering Word and Faith Groups. These are also held via Zoom at the following days and times.
Blayney Parish, Sundays @ 9:00am

Mudgee Parish, Sundays @ 5:00pm
Please go onto their Facebook page or Parish Bulletin for Zoom login details.
If you would like anything else to help out at home during this difficult time, please contact me via email (n.twohill-scott@bth.catholic.edu.au)
Mrs Nicole Twohill-Scott - Family Educator
Administration
COVID Impact and School Fee Relief
The impact of COVID restrictions varies from family to family. If your family has been impacted financially and you have had to work with Centrelink to negotiate your way through this hardship, then make contact with the school and we will work on a school fee relief plan.
In general, the process will go through the following steps:
Parent/ Carer contacts the school to start the process

School provides the relevant paperwork to complete and asks for some sort of proof eg. centrelink statement, health care card etc.

School reviews the current financial situation in preparation for a meeting.

Parents/carers meet with the Principal (in a COVID safe manner) to plan out an agreed resolution.
School Photos - Dispatch Expected Week 9
The wonderful team at Creative School Portraits have once again weaved their magic and will have School Photos packaged and ready for delivery to the school later this week. Dispatch to families will occur from next Monday of Week 9.
In order to coordinate dispatch, whilst also minimising traffic in and out of the school, we will be packaging school photos to go out with the Week 9 K-3 Workbook pick up happening next Monday 6 September. For those families for whom the K-3 Workbook pick up does not apply, you will be contacted later this week and advised of your pick up arrangements for next week. Please be assured that your school is working hard to synchronise all outgoing dispatches so that families don't have to make multiple trips for multiple children in multiple year groups/subjects - but this does take time to coordinate. Please sit tight and we look forward to getting your photos home to you next week.
Scholastic Book Club
Issue 6 of Scholastic Book Club has been sent home to Years K-3 in this week's home learning pack. All other families are encouraged to view the catalogue online using the link provided below. Orders for Issue 6 of Book Club are due Friday 10 September.
https://www.scholastic.com.au/book-club/book-club-parents/
Wellbeing
Mask requirement in outdoor settings for Year 7 students and above
From Monday 30 August students in schools subject to stay-at-home rules in Year 7 and above are required to wear face masks in both indoor and outdoor settings while on school grounds.
This is to align with the NSW Health Public Health Order, which requires all persons over the age of 12 living in areas subject to stay-at-home rules to wear a face mask in public indoor venues and while outdoors. The new requirement will also help support the health and safety of students and staff still attending school.
In summary, masks or face coverings are required for schools subject to stay-at-home rules in:
all indoor and outdoor settings for all staff

all indoor and outdoor settings for students in Year 7 and above.
Existing exemptions continue to apply. This aligns with the Public Health Order requirement for all persons over the age of 12 to carry a face mask with them whenever they leave their home.
Canteen
With many thanks to Mrs Donna Stokes, the canteen will remain open this week (Monday, Tuesday, Thursday, Friday) for those students that are at school, but pre-orders of both morning tea, and lunch are essential. Please ensure that students put in their morning tea and lunch orders to the canteen by 9:30am each morning.
Curriculum News
Year 3 have been making sundials using paper plates and straws. A sundial is a device that tells the time of day by the position of the Sun in the sky. By placing the plate (marked like a clock face) on a flat surface outside in the sun, the straw cast a shadow onto the plate indicating the approximate time of the day. The sun is highest in the sky at midday and casts short shadows. Longer shadows are cast when sun is lower in the sky. You might want to try making one yourself this week!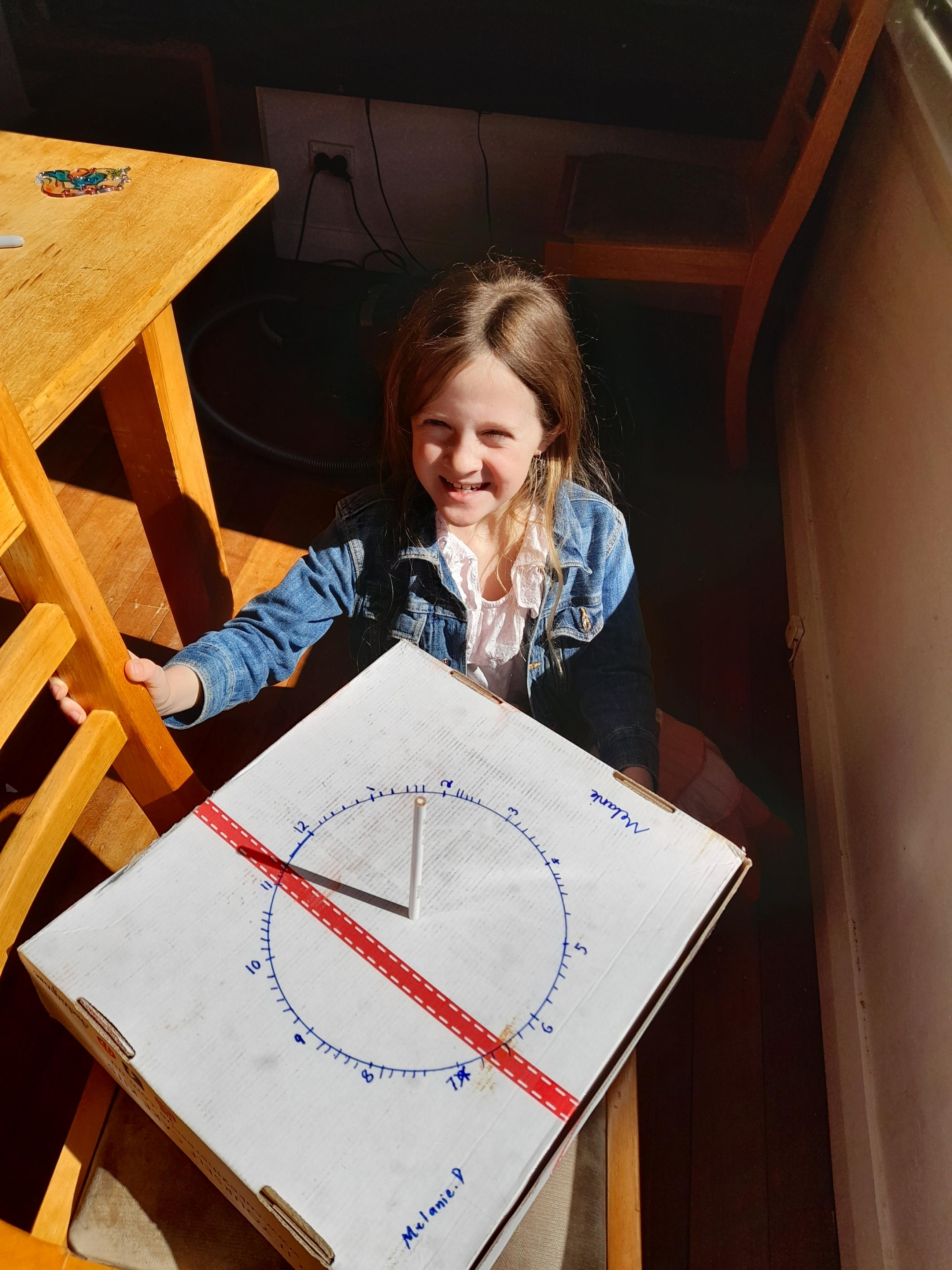 And Year 2 have been searching for tiny, but important parts of God's creation.
A Day in the Life of Home Learning
Prev
Showing images
1 - 8
of 10
Next
This Week's Birthdays
Monday 30 August
Happy birthday to Georgia Kennedy
Tuesday 31 August
Happy birthday to Sam Kollas and Hanna Parakkal
Friday 3 September
Happy birthday to Mase Kirwan and Misty Williams
Community Connections