Term 3, Week 9 - Monday 6 September 2021
Principal's Report
Dear Parents
Kindy Start is now up and running remotely! This preparation time draws on the time and expertise of quite a number of people to bring about a smooth transition to big school for our newest students.
Applications for Student Leadership positions at secondary level have been received and the selection process has begun. In early Term 4 the appointments will be finalsed and announced. Thank you to all who have applied - it is an act of generosity and courage.
Thank you to staff members for the generous preparations being done for the students - the learning kits K-3, with the drive-by routine, the Mini Art Studio's for the visual art students, the Workbench in a Box for the woodworkers. Imaginative and inspirational.
National Child Protection Week is marked in the week ahead and is already firmly in our culture here. The new configuration of ten national standards that staff started to address in Term 1 of this year will be fully implemented by 2022.
Please take the time to explore the CSNSW Aboriginal Education website - it is worthwhile! CSNSW Aboriginal Education Homepage
In a preliminary look at 2021 NAPLAN results there are excellent affirmations for the way learning is being conducted at infants level at our school. Growth data at higher levels is also affirming the way support is being delivered to those who most need it. It is satisfying to see the fruits of hard work. As occurs each year, following the detailed analysis targeted strategies will be incorporated into classroom programs.
Michael Gallagher
Principal
Faith & Life
He even causes the deaf to hear and the dumb to speak!
Mark 7: 37
What's On This Week
Focus on Families
Father's Day Liturgy:
I hope everyone had a lovely Father's Day yesterday. Many thanks to the staff, students and their families who contributed to the Father's Day Liturgy Video. If you didn't get a chance to view it yesterday, it will remain on Compass for 28 days.
Take a Few For You:
Our weekly Take A Few Video reflections will recommence this week. These short videos provide you as parents and carers with an opportunity to take some time for yourself to recharge and renew. They will be posted on Compass on Fridays.
Diocesan Youth Activities:
Our Diocesan Youth team are currently running two events each week via Zoom. For students in Yrs 5 & 6 they are running a Kahoot session and for students in Yrs7-12, they are running an online Games night.
Helpful Prayer and Mass Resources:
There are lots of great online resources out at the moment for you to view and use. Here are just a few:
connect@home- This is a daily prayer resource based on the scripture readings of the day. It is produced by our own Diocese and written by our priests and deacons. Simply just go to the Bathurst Diocese website and register your interest to receive the daily email. https://www.bathurst.catholic.org.au
Live Stream Angelus: Each day the Parish of St Mary's, Mudgee live streams the Angelus at 12:00noon. Just head to their Facebook page and you will be able to view and pray along.
Live Stream Mass: Each day the Parish of St Mary and St Joseph's, Orange live streams daily Mass at 7pm. Head to their Facebook page to view.
Live Stream Sunday Mass: There are a few of our Bathurst Diocese Parishes who are now live streaming Sunday Mass. They are Mudgee, Orange, Bathurst and our own Cowra Parish. To Live Stream our Mass, go to the Parish Facebook page and click on the link. The Mass will be live streamed at 9:00am each Sunday. There is also information about it on the Parish Post which is emailed to each family every week.
Diocesan Word and Faith Groups: The Diocese is also running Word and Faith Groups. These will be held via Zoom at the following dates and times:
Tuesday 31st August @ 7:30pm

Thursday, 2nd September @ Midday

Friday 3rd September @ 9:00am
Use this link to join these meetings https://bthcatholic.zoom.us/j/4582615130
Parish Word and Faith Groups: Two of our Parishes are also offering Word and Faith Groups. These are also held via Zoom at the following days and times.
Blayney Parish, Sundays @ 9:00am

Mudgee Parish, Sundays @ 5:00pm
Please go onto their Facebook page or Parish Bulletin for Zoom login details.
If you would like anything else to help out at home during this difficult time, please contact me via email (n.twohill-scott@bth.catholic.edu.au)
Cheers,
Mrs Nicole Twohill-Scott - Family Educator
Administration
School Fees
Thank you to all parents who have taken care of the current fee accounts by the due date. There are still some accounts that are overdue and your attention to this matter will be appreciated. Parents are reminded that if there is any difficulty or reason why payments are not currently being made, please make contact so that a solution can be found with discretion and confidentiality.
COVID Impact and School Fee Relief
The impact of COVID restrictions varies from family to family. If your family has been impacted financially and you have had to work with Centrelink to negotiate your way through this hardship, then make contact with the school and we will work on a school fee relief plan.
In general, the process will go through the following steps:
Parent/ Carer contacts the school to start the process

School provides the relevant paperwork to complete and asks for some sort of proof eg. centrelink statement, health care card etc.

School reviews the current financial situation in preparation for a meeting.

Parents/carers meet with the Principal (in a COVID safe manner) to plan out an agreed resolution.
School Photos
School Photos have now been delivered to the school, and the majority of packs have been sent home today with the Week 9 K-3 Workbook pick-up.
All other photo packs will be available for pick up from outside the school this Wednesday 8 September between 9:30am and 11:30am. Parents are asked to pull up in the bus bay on Liverpool Street and your photos will be handed to you from there. In order to minimise unecessary traffic in and out of the school, any photo packs not picked up during this time on Wednesday 8 September will be distributed to students upon their return to school in the coming months. Where necessary, please contact the school office on 6342 2940.

Scholastic Book Club
Issue 6 of Scholastic Book Club has been sent home to Years K-3 in last week's home learning pack. All other families are encouraged to view the catalogue online using the link provided below. Orders for Issue 6 of Book Club are due this Friday 10 September.
Wellbeing
Canteen
With many thanks to Mrs Donna Stokes, the canteen will remain open this week (Monday, Tuesday, Thursday, Friday) for those students that are at school, but pre-orders of both morning tea, and lunch are essential. Please ensure that students put in their morning tea and lunch orders to the canteen by 9:30am each morning.
Curriculum News
As part of their writing tasks, Year 2 has been learning acrostic poetry by concentrating on the changes we see during springtime, and celebrating our Superman Dads! They have also been practicing their Sizzling Starts, learning about alliteration and having fun with silly sentences. A sample of this great work is included here.
My Weekend. By Evana Suzanne Manu.
Wow! I had the best weekend. I celebrated the Indian national Festival, Onam, the festival of colours and harvest with my family.
We dressed with traditional Onam costumes. We made a carpet with flowers and it seemed so fabulous and felt very cosy. We listened to Onam stories and songs. My mum cooked very tasty
Onam dishes and it smelt so good. I was so happy dancing along to Onam music with my brother and sister.
My Day. By Gabrielle Bryant.
On Wednesday the 18th of August 2021 I did home learning in the morning and I built a lot of lego. I built a lift, staff and a chair. But I accidentally dropped the staff and it smashed. It took a long time to pick up. After I picked up all the lego I went to my Grans house.
I took a colouring book and pencils. But I did not do much colouring. I helped gran do some cooking. We made cupcakes with fruit in them and ones with sprinkles and choc chips on top.
I put the sprinkles and choc chips on top. And the ones with choc chips on them had choc chips in them too. After we finished cooking I watched Netflix on Grans TV.
After I watched Netflix, Gran and I went outside on the front porch and had a game of go-fish. It was a tie every time we played. Gran and I kept getting thirteen every time and then Dad came to pick me up and we took some cupcakes home with us.
My Morning. By Beatrix Perry.
Splash! The warm, tasty, chocolate milo energised me until it spilt all over the table and looked like a chocolate river.
Mr Silly scissors sat his science quiz about the ascent and descent of muscles, kilograms and land scent in a crescent shaped car. By Beatrix Perry.
Six gurgling girls giggled in a green house filled with geese. By Jack Keefe.
Squelch, Squelch! On the weekend Dad, Georgia and I had to fix a leaking pipe. We had to dig a deep hole. When we were digging close to the earth it was wet and gooey. It went EVERYWHERE!. When Dad accidentally was shoveling it splashed in my mouth. It tasted gritty and sloppy. When I touch it, It feels like slimey, gooey mud. When Dad put it on the tarp it sounded like blowing a raspberry. When we dug deep it smelt like earthy, dirty mud. It made me so very happy, because I could build a mud house I also played on my trampoline and watched among us Sunday. By Noah Campbell.
For art Year 2 have been making cherry blossom trees that show how branches come alive with color as the flowers bloom, and have been Planet Super Heroes by bringing their food to school in reusable containers! Go year 2!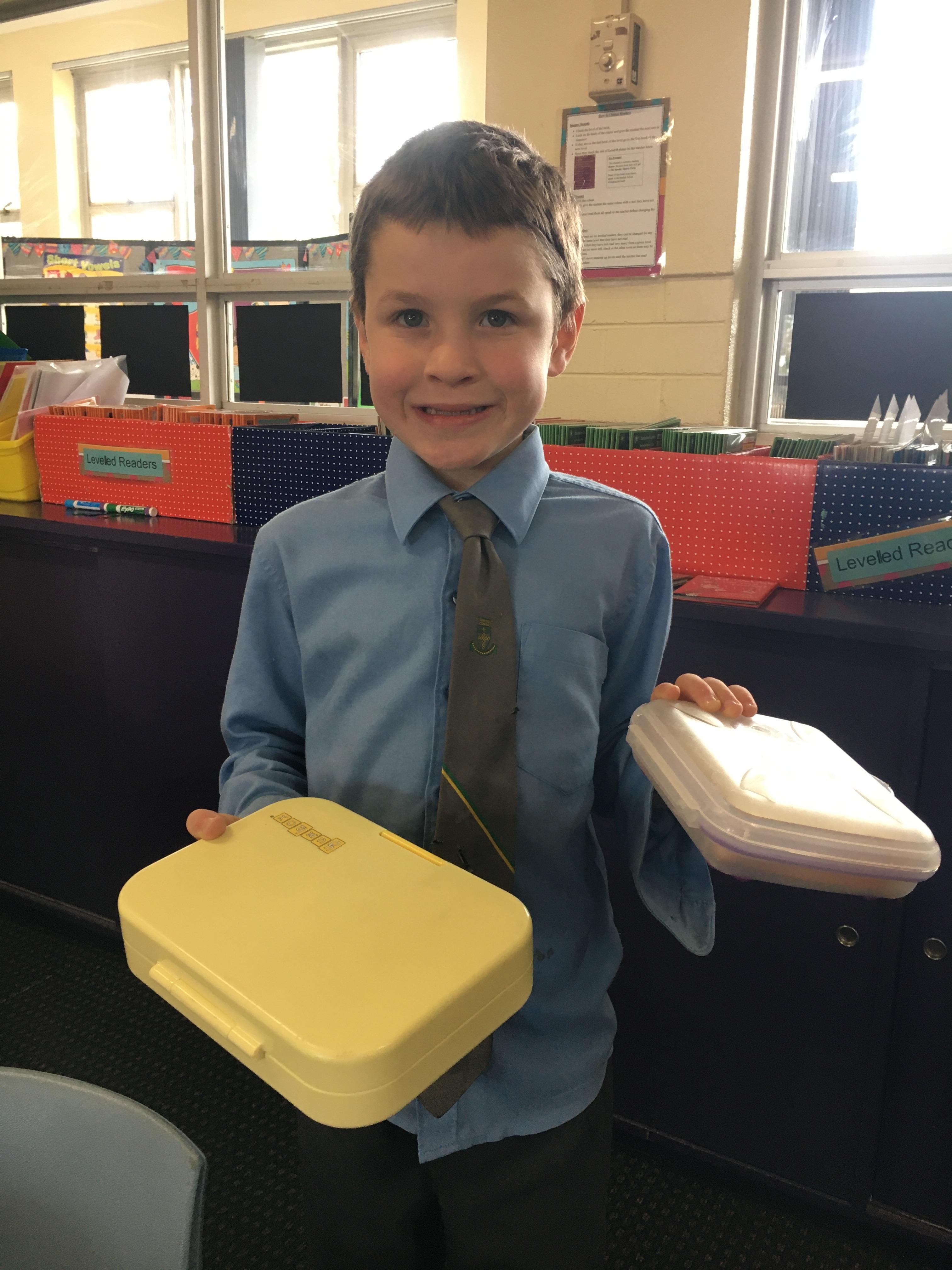 Year 5 have been creating unique Mandala's as part of their Care for the Earth religion studies.
This Week's Birthdays
Tuesday 7 September
Happy birthday to Evie Smith & Beau Tremble
Thursday 9 September
Happy birthday to Logan Haslam & Eli Hodder
Friday 10 September
Happy birthday to Angus Robson & Evie Woodhouse
And happy birthday to Jack Bryant who celebrates his birthday this weekend!
Community Connections