Term 4, Week 10 - Monday 6 December 2021
Principal's Report
Dear Parents,
HSC results will be released next year on January 14 following the multiple postponements of the exam period through Term 4 and I want all to know that we are proud of our Year 12 students and the way they worked under challenging circumstances for both years of their senior studies. That every Year 12 student finishes their schooling already placed in work, training or studies is wonderful but even more are we proud of the calibre of character the fine young adults have developed. We pray that each of them is richly blessed as they make their way into adulthood and shape their lives around strength and gentleness. The Graduation Mass and Dinner is being conducted this Thursday.
Semester Reports and Awards Day provide the pleasant duty of looking back over the achievements of the year. Stepping back gives a wider and better perspective. The daily grind of little problems actually diminishes alongside the excellence of achievements and growth.
Awards Day, next Monday, will have the whole school on display for the community. What we choose to recognize and award says a great deal about our school and we appreciate the parental support on these special days in the school's calendar. We recognize excellence, we recognize hard work, we recognize fairness and compassion – these are pivotal qualities for a good life.
Reports give an account of formal learning in school, person by person, for the last two terms. Documentation is a massive and very important task that we take very seriously. We aim to provide a comprehensive picture that will be a source of pride and satisfaction as well as a platform for planning learning in the new semester. Reports will be available on Compass prior to the end of school term.
Staff members of our school invest hugely and personally in the lives of your children. The time, the commitment, the personal investment is extraordinary and I am privileged to work daily alongside such wholesome people. To aid learning is an investment in the future and, between the works of good families and good staff members, our children here have a very sound foundation.
Michael Gallagher
Principal
Faith & Life
Dear Jesus, you are the hope in our messy world.
This Advent, help us slow down, listen to your voice, and focus on what's really important. We place our hope in you as we prepare our hearts to celebrate your birth on Christmas.
Dear Jesus, you entered our world on Christmas as the Prince of Peace. This Advent, as we strive to become the-best-version-of-ourselves, fill us with a deep and abiding peace. Help us share that peace with everyone we encounter, especially those who need it most.
Dear Jesus, help us focus on you during this busy season. May we stay aware of the joy you bring into our lives. We want to find you in the everyday moments and come with hearts of gratitude to your manger on Christmas.
Dear Jesus, may the light of your love always shine in our hearts. As Christmas draws closer, we marvel at your great love for us. Let your love transform every aspect of our lives and touch everyone we encounter. Our hearts are open to you, Jesus.
Amen.
Altar Servers at St Raphael's Parish
Saturday 11 December - Jack Graham & Ryan Clarke
Sunday 12 December - Leuwin McGill & Oscar McGill
What's On This Week
Administration
2022 School Start dates

The last day of school for students for 2021 is next Wednesday 15 December.
Term 1 2022 start dates are as follows:
Monday 31 January 2022 - Years 1-6 + Year 7 + Yr 11 + Year 12 Leaders
Tuesday 1 February 2022 - Kindergarten + Years 8-10 + Year 12
Annual Presentation Day
The St Raphael's Catholic School Annual Presentation Day will take place next Monday 13 December via Zoom. This end of year event is a celebration of the year that was, and an opportunity for the entire school community to acknowledge the outstanding achievements of so many of our students. The Primary Assembly will take place from 10:15am to 11:15am, and the Secondary Assembly will be conducted from 12:35pm to 1:35pm. The families of those students who will be receiving an award will receive a letter in the coming days with the Zoom details of how to link in with this event. The Zoom link will also be distributed to all families via Compass, by the end of the week.
2022 School Fee Schedule
The St Raphael's 2022 School Fee Schedule has been released and is attached for your reference.
Primary Curriculum News
2022 Primary Class Requirements

The stationery and equipment lists for primary 2022 is provided here for your planning.
Primary Homework
Students can be very proud of their reading improvements this year. Dedication to reading homework has contributed to some pleasing achievements and we congratulate those children who have maintained regular daily reading. Unfortunately, as the school year draws to a close it is time to collect all of our school books. Therefore there will be no homework expectations from Week 10 until the end of the school year. It is important to rest and play, however, students are encouraged to take some time to read throughout the holidays.
Swimsafe Wrap up
St Raphael's Swimsafe program has finished. The weather was mostly kind to us and we were lucky to sneak in the majority of lessons without being tormented by heavy rain. Swim Instructors have completed each of the children's checklists and the certificates will be given out this week, showing your child's progress in the intensive swimming programme.
The children can be very proud of their efforts in and out of the water this year. We are also extremely thankful to have had a professional team of swimming instructors who took great care of the children whilst expertly teaching water safety skills.
2 Green and Gold have written about Swimsafe and would like to share some of their journal entries and photos with you. Kindergarten Gold and Green also feature in the photos dressed in their pyjamas, ready for swimming!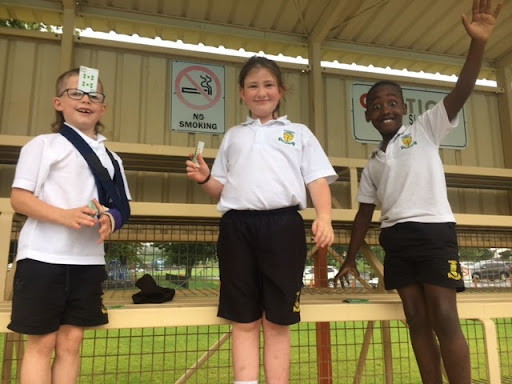 Prev
Showing images
1 - 8
of 9
Next
Cowra Council Australia Day Literary Competition
Over the past weeks, Primary students have been researching Australian Paralympians. The children were absolutely amazed by the perseverance and achievements of their chosen Paralympian. As a result, some fantastic compositions have been created. We congratulate the students for their enthusiasm during this exercise and look forward to seeing the results of the competition. The diary entry below is a creative piece written by one of our Stage Three students.
Summer Reading Challenge
Expand your imagination... by READING this Summer!
The Summer Reading Challenge will begin on November 15th and we are encouraging all students to read, read, read! Students can read anything they like to enter the challenge, whether it's a comic, play, book, e-book or graphic novel.
Read to Learn… Read for Fun… Read to Win
The Executive Director's Summer Reading Challenge is open to all students enrolled in our systemic Catholic schools in the Diocese of Bathurst. Students need to independently read 10 or more age-appropriate books (5 full length novels for secondary) during the summer holidays to go into the draw to win one of four iPads.
How to Enter
Keep an informal record of the books you have read over summer and complete the personal reading log. Once your challenge is complete, enter your list of read books online to go into the draw for a prize. A parent or guardian must confirm that the books were read prior to entry. Entries must be received by 5pm, 6th February 2022. The winners will be announced on Friday 11th February 2022 and published on Monday 14th February 2022,on the Catholic Education Website.
Reading Suggestions
You may also like to refer to the NSW Premier's Reading Challenge Reading List for some ideas of books to read to get the summer reading challenge started.
Primary Wellbeing
Class Parties

The end of the year is almost upon us and it is time to celebrate! On Tuesday, 14 December (Tuesday, Week 11) all Primary classes will be having their class Christmas parties. Students are encouraged to wear Christmas themed mufti for our celebrations. Class parties will be held in our classrooms from approximately 12:30pm until lunchtime.
Due to COVID restrictions around sharing of food, we are asking that each student bring $2 to cover the food that each classroom teacher will purchase for the day.
Canteen
Please find attached for your convenience a copy of our Summer Canteen Menu for 2021.
This week's canteen roster is as follows
Tuesday 7- Tammy Zarb, Karen Campbell

+ HELPER PLEASE

Wednesday 8 - CLOSED
Thursday 9 - Kim Horne, Kylie Kollas, Lisa Hall

+ HELPER PLEASE

Friday 10 - Jessica Newcombe, Michelle Wydmuch
Monday 13 - Scout Williams, Michelle Wydmuch
Primary Award Recipients
Congratulations to our wonderful award recipients in Week 9. We are very proud of you.
This Week's Birthdays
Tuesday 7 December
Happy birthday to Cameron Forsyth & Emily Savage
Thursday 9 December
Happy birthday to Alice Jennings
Friday 10 December
Happy birthday to Holly Wilson
And happy birthday to Archie Frazer and Natasha Smaluck who celebrate their birthdays this weekend!
Community Connections