Term 1, Week 1 - Tuesday 1 February 2022
Principal's Report
Dear Parents
2022 - A New Chapter At St Raphael's Catholic School!
This week, an exciting new chapter commences in St Raphael's history. This year we are hopefully beyond the extremes that COVID has had on schools and communities. In 2022 we challenge our whole school community in the opportunities that 2022 gives us every day. In each opportunity we are reminded that there is God in all things. So the entire St Raphael's community is invigorated with what we can, are able to, and will achieve this year.
Personally, I am extremely excited and privileged to commence at St Raphael's, and be part of our Parish and community. I have shared my journey with staff, parents and students so I will just give a brief outline here. I have 31 years of experience in Catholic Systemic, Independent Catholic and Public Systems. I am the eldest child of 7, and among my siblings we have 30 children and 2 great children, and my husband and I have our first grandchild.
In each school I have been privileged to have many opportunities to grow as an educator, explore and develop my own faith journey, and increase my passion for student learning.
I have taken each opportunity and endeavoured to be the 'Best I Can Be', and have been highly motivated by the motto "As Much As You Can Do, So Much Dare To Do".
How much energy can you derive from these statements?
"Be the Best You Can Be"
"As Much As You Can Do, So Much Dare To Do!"
For me, I can see a challenge that I am both excited and invigorated by - what impact am I able to make on my own learning, and how can I influence the invaluable asset of a growth mindset in others! Imagine the impact we can make at St Raphael's being challenged to learn beyond our expectations, in a strong faith community whereby inclusivity and personal faith development means each of us learns to walk in the steps of Jesus, with courage to be people for others, and being significant change agents for our world. So I challenge each of us in our community to strive to fulfil this portfolio. It is a portfolio which will develop in each of us a strong capacity to speak up for the issues we face in our world, be a person for others, whilst accepting that we are all learners throughout our lives.
Upon commencing at St Raphael's, I am extremely proud of the 2021 HSC Cohort. Every response from staff conveys the extent of achievement each student had towards achieving their goals. In fact, every Year 12 student seeking to go to university, received an early university entrance into their selected degree, students seeking apprenticeships or employment, also achieved their goals. Therefore the 2021 Year 12 cohort are a great success story, and are commended for achieving their goals.
Last week I was privileged to experience my first Australia Day Awards in Cowra. I was thrilled to see how many awards our students achieved in 1st, 2nd and 3rd places. In fact, St Raphael's students were the highest represented school in the awards ceremony. I also commend Emily Beath-Pearce for being nominated for Young Citizen of the Year, this is a significant achievement and recognition for outstanding service and leadership. Finally, St Raphael's staff are extremely proud of our newest Australian citizen, Ricky Shaji.
I look forward to meeting and conversing with students and parents over the following weeks. I will be conducting forum groups with parents and students so each of you can have an opportunity to talk about great aspects of our school, challenges and ideas.
Finally, I would like to acknowledge the wonderful dedicated staff we have at St Raphael's. During the holidays, staff were in attendance regularly over the holiday period, getting prepared for their students. Your teacher's enthusiasm to go above and beyond the call of duty, is testament to the high expectations staff have of themselves in their professional duty and the high level of education that our students receive.
God bless everyone!
"As Much As You Can Do, So Much Dare To Do!"
Michelle Deschamps
Principal
Faith & Life
Prayer
Brigid, you were a woman of peace, you brought harmony where there was conflict.
You brought light to the darkness. You brought hope to the downcast.
May the mantle of your peace cover those who are troubled and anxious,
And may peace be firmly rooted in our hearts and in our world.
Amen
St. Brigid: A Woman for Our Time
Today we celebrate the feast day of St Brigid. Being a Brigidine school, St Brigid holds special significance for us. Looking at her life, and at some issues that confront and challenge us, it seems only right that Brigid would hold such significance.
Brigid saw Christ in every person, especially in the guise of the poor person. Those concerned with justice issues are challenged by her response. A sense of justice impelled her to share: "what is mine is theirs".
Her life inspires unity and reconciliation. In a world of much fragmentation, with many divides, there is a search for unity, a search for connection, a search for a sense of the whole family, human and natural.
The stories and legends about Brigid depict her as a woman of energetic action which is summed up in the phrase:
"…hers is a legacy not of words, but of a lifetime of ministry."
Condensed from "Rekindling the Flame: A pilgrimage in the footsteps of Brigid of Kildare
by Rita Minehan CSB
What's On This Week
Administration
Wellbeing
Mrs Deschamps has had a wonderful start to her time at St Raph's! A highlight has been indulging in one of her favourite hobbies ... taking Selfies with her wonderful students and school community!
Sport
St Raphael's annual Swimming Carnival will take place next Thursday 10 February, 2022. This is a whole school event (EXCEPT for our Kindergarten students who will not participate, and for our Year 1 & 2 students who will be taking part in water activities back at school). All necessary information has been sent to families via Compass, and is attached again here for your information.
Canteen
Welcome back to another year. I hope everyone had a lovely break and I look forward to meeting new students and their families to our school. The St Raphael's school canteen runs on a voluntary basis and provides freshly prepared food on Mondays, Tuesdays, Thursdays and Fridays. As well
as fueling the children for their school day activities, the canteen provides a service for busy parents by taking lunch preparation off the home agenda (and giving that 'sometimes treat' for your children!)
I am looking forward to filling all the hungry bellies this year, but I can only do this with your help! The roster is really empty so it would be fantastic to have a lot new faces join our volunteer roster. I am asking for our new family and existing family members to put their hands up to help for just one day a term (or more if you can manage). You would be required from 10.00 am to about 2.30 – 3.00 pm. Your lunch is supplied and you may make yourself a cuppa as needed. Please call the school on 6342 2940 to get your name on the list!
If you have any questions, or would like to speak with me about joining the Canteen Volunteer team, please call me on 0427 501 508.

Lets have a great term. Regards Donna (Mrs Stokes) x
Please find attached our Summer Canteen Menu for 2022. This menu will be effective for Term 1.
This week's canteen roster is as follows
Wednesday 2 Feb - CLOSED
Thursday 3 Feb - Lisa Hall

+ 2 HELPERS PLEASE

Friday 4 Feb- Kylie Kollas

+ 2 HELPERS PLEASE

Monday 7 Feb- Ashlea Overman

+ HELPER PLEASE
Please call Donna (Mrs Stokes) on 0427 501 508 if you are able to help this week.
Primary Curriculum News
Welcome back, Primary
Today has been one of great excitement as the children have reunited with their classmates after the holiday break. Some classes have been fortunate to welcome new members to their grade. We hope that our newest class members and returning students have a wonderful start to the school year. Our teachers are very excited to have met their new students and are looking forward to a fabulous year of learning.
Along with excitement comes the need to readjust to school routines, our eating times and learning times. While returning to school can be so much fun, it can also be exhausting. With this in mind, children are encouraged to reset their sleep body clock to ensure they are well rested and ready for learning.
Homework
Students will spend the first two weeks bonding with classmates, building stamina for learning and familiarising themselves with new class routines. Therefore, homework for students from Year 1 to Year 6 will begin in Week 3.
Street Sense
At the beginning of each year it is important that our children are explicitly taught about road safety. In the coming weeks the children will participate in Bus Safety talks, compliments of the Cowra Bus Service. Please take some time to reinforce these road safety measures from the Transport NSW website to ensure the safe keeping of our precious children.
Primary Sport
Students from K-6 will be participating in Physical Education lessons once a week. Not all grades share the same sports day. Below is a table showing your child's usual day set aside for Physical Education. Your child will be most comfortable wearing their sports uniform on this day.
| | |
| --- | --- |
| YEAR LEVEL | SPORTS DAY |
| Year 1 | Tuesdays |
| Kindergarten | Wednesdays |
| Year 3 | Wednesdays |
| Year 4 | Wednesdays |
| Year 5 | Thursdays |
| Year 6 | Thursdays |
| Year 2 | Fridays |
Community Connections
Cowra Australia Day Awards
During the Australia Day Service, one couldn't help but be overwhelmed with an immense feeling of pride on many levels.
St Raphael's School was extremely well represented by our wonderful literary award winners. Catriona Rowntree who addressed the community with great enthusiasm, presented the awards to our students. The fantastic compositions reflect the great efforts of our teachers and students and their dedication to develop their writing skills.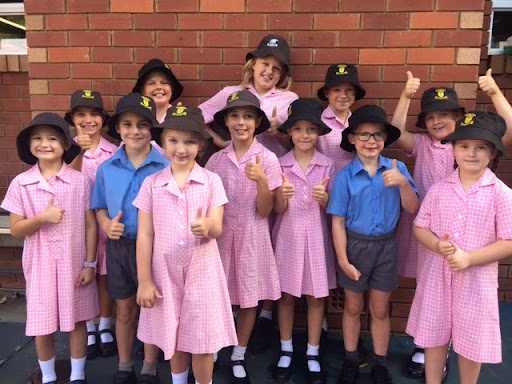 During the service, there were other proud moments for our school. Our school leaders, Michael McNamara and Emily Beath Pearce (in Grace Richmond's absence) proudly represented St Raphael's as they rang the peace bell and cut the Australia Day cake.
Emily Beath Pearce is also to be congratulated for being nominated as Young Citizen of the Year. Emily's achievements are a credit to her and our school community.
"In 2021, I raised $7000 for the Black Dog Institute, was Youth Ambassador and Youth Peace Award nominee. This year I'm very honoured to have been one of Cowra's Youth Citizen nominees of the year. I am very honoured and excited to represent the school and be a part of the 2022 leadership team." Emily Beath-Pearce
Another of our Year 12 students celebrated a momentous occasion. Our very own Ricky Shaji became an Australian citizen on this day. We extend a very hearty congratulations to Ricky.