Term 1, Week 10 Newsletter - Monday 4 April 2022
Principal's Report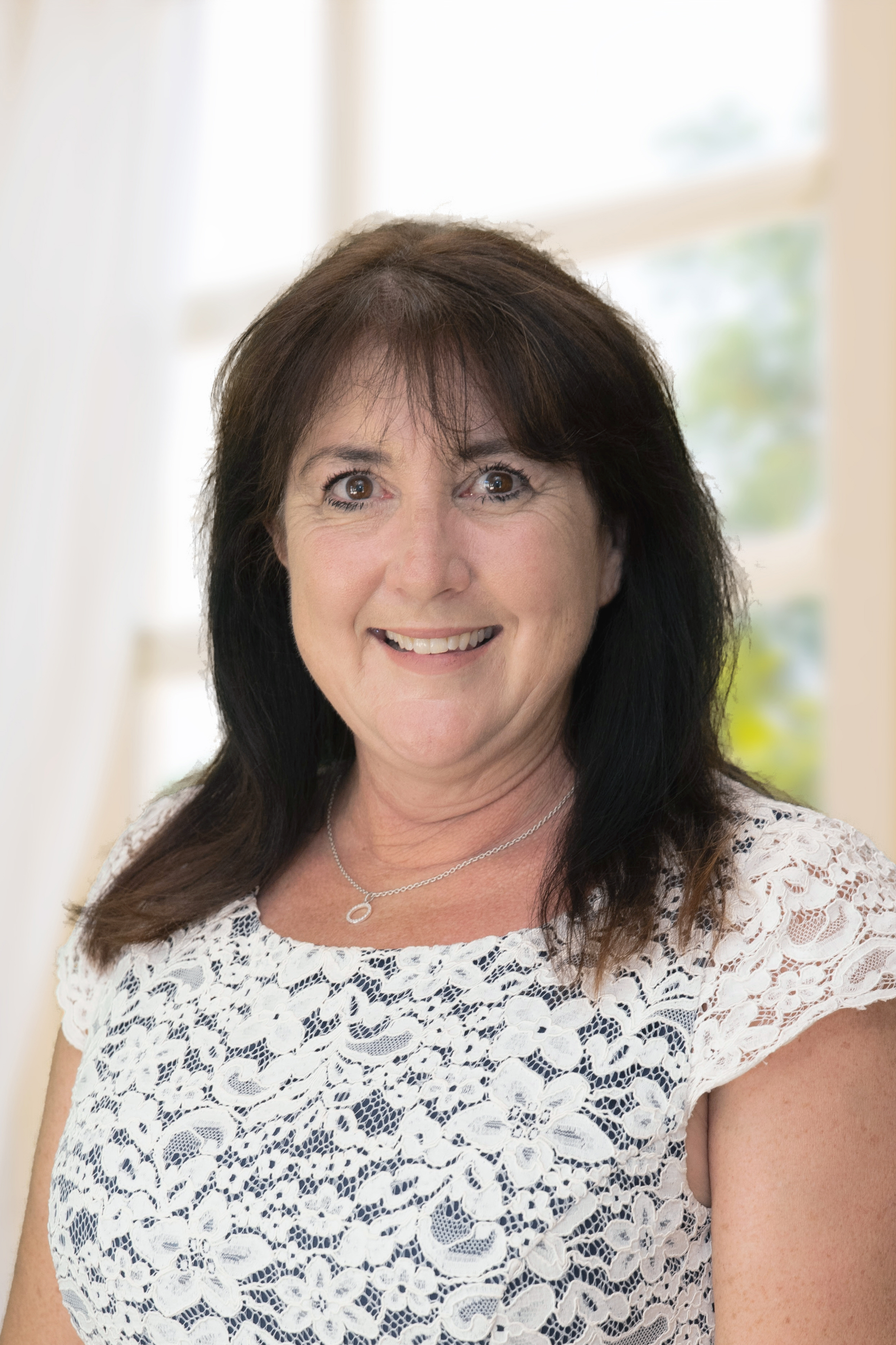 Dear Parents
The last two weeks have been extremely busy. A huge highlight for many has been the arrival of our new St Raph's resident - Raphy. He is already adored and loved by students and staff. I am sure his impact is set to be a legacy we will all cherish. Another significant highlight is the commencement of our school breakfast club. Staff are arriving early to support and set up our breakfast club, we are truly blessed to have such giving staff. Students are thrilled and the conversations among the students whilst enjoying breakfast is giving them a wonderful opportunity to socialise.
On Saturday we enjoyed the Festival of International Understanding. Thank you to the students and parents who walked with us. We certainly walked with pride. The Primary students are also congratulated for their wonderful window display, winning first place!
Last week Mr Phelan and Mrs Bennett conducted the first Duke of Edinburgh bushwalking trek and camp for the year to Ben Halls camp site. The students had a fantastic time trekking up and down steep hills, cooking on camp ovens and setting up tents. This experience provides our students with invaluable learning experiences.
Today I attended the first day of the Canowindra Hot Air Balloon Challenge with the Duke of Edinburgh students. What an awesome experience! Our students learn a great deal about geography and science, as they learn to navigate across land with allocated coordinates, and understand how weather such as wind speed affects balloon navigation. Oh and the camera opportunities were amazing!
Parent/teacher conferences last week were a great opportunity for parents to check in. Despite being conducted via zoom, it is evident that zoom provides a lot of convenience to parents.
Thank you to Mrs Gallard for her outstanding organisation of all sporting opportunities this term. It has been a huge amount of organisation for Mrs Gallard, to provide numerous opportunities for our students, who in turn have demonstrated wonderful achievement. Last week concluded with the primary school cross country. It was an enjoyable day experienced by staff and students.
A reminder that this Friday 8 April is a Pupil Free Day for all students . Term 1 classes will conclude this Thursday 7 April. Term 2 will resume on Tuesday 26 April (after the Anzac day Public Holiday), and students will return in their winter uniforms. I wish every family a safe and rejuvenating holiday break.
Mrs Michelle Deschamps
Principal
Anti Bullying Policy and Procedures
Thank you for the feedback from staff, parents and students in devising the Anti Bullying Policy and Procedures for the school. Students will be issued with this important document over the next few weeks and will be expected to adhere to the policy. St Raphael's strongly encourages all students to be firm upstanders to bullying.
Uniform Blitz Term 2
Uniforms need to be improved in Term 2. Students need to wear appropriate clothing which reflects school expectations. This week students will receive information about expectations and consequences.
It is expected that students adhere to the points below in order to maintain a neat and tidy appearance:
Jewellery is to be limited to the following:
The wearing of one ring.

Necklaces are permitted but must be worn under the uniform.

Earrings must be sleepers or stud earrings only.

Stud earrings should be no bigger than the ear lobe.

The number of piercings should be limited to two per ear.

Clear piercings must be worn for piercings other than the ear.
2. Makeup is to be kept to a minimum.
3. Hair must be kept to a neat, clean and tidy cut. Hair should also be tied back if past the shoulder in length.
4. Male students are to be clean shaven.
5. Footwear must be enclosed black leather.
6. Nail polish should be clear or neutral.
7. Tattoos must be covered by the uniform at all times.
8. The St Raphael's school backpack is a compulsory item for K, 1, 2, 7, 8, 9 (according to the progressive introduction that commenced 2020)
Faith & Life
Please follow this link for the Catholic Diocese of Bathurst (all Parishes) mass times leading up to and including Holy Week and Easter.
What's On This Week
Holiday Capital Works Projects
Mrs Deschamps is pleased to announce the following projects that will be undertaken in the Term 1 holiday break:
Step 1 Bus Area - Concrete in front of Year 1 classrooms (bus side) in the grassed area. Bus seating has arrived. Primary students will sit on the seats for their bus

Front of the school fence has been ordered which will improve safety

Air Conditioners will be installed in all primary classrooms

Carpet in foyer area

Painting front of school and primary hallways

Secondary water fountain/bottle filling station to be installed in the holidays

Canteen - air conditioner in prep room, wiz bang oven, new fridge and industrial dishwasher - I am sure we all know that Mrs Donna Stokes deserves these upgrades!
Wellbeing
St Raphael's Breakfast Club

Wow! What a first week of St Raphael's Breakfast Club! So many smiling, happy faces enjoying a nutritious breakfast including Corn Flakes, Sultana Bran. Weetbix, Up 'n' Go's Toast and lots of fresh fruit. It has been amazing to see so many students of all ages sitting or standing around enjoying their breakfast and talking with each other.
A massive thank you goes out to the anonymous St Raphael's family that donated our brand new toasters. Our Breakfast Club initiative could not go ahead without your generous support.
Thank you to all those students who have come down to the Convent Courtyard with your happiness and fantastic manners.
For those students who have not come down to visit, don't forget that our Breakfast Club is on every Monday, Wednesday and Friday between 8am and 8:45am.
Prev
Showing images
1 - 8
of 10
Next
Secondary Student Parent/Teacher Interviews
Our first term of learning has been very productive and now is a good time for parents and teachers to touch base regarding all matters of learning. Secondary Student Parent/Teacher discussions will be held at the start of Term 2, Tuesday 26th April, 3.30pm - 7.00pm via ZOOM.
Please go to your COMPASS portal to book a time to meet with your child's/children's teacher. If accessing Compass on your mobile phone, the interview schedule may be found by selecting More then Conference. Bookings will remain open until Monday 25th April, 9.00am.
Curriculum News
Term 1 Learning - Primary
Term 1 has been action packed, exciting and of course, challenging. Students are now comfortable and familiar with their new class routines and engaged in learning. We have much to be proud of and although we haven't been able to return to all usual activities, teachers and students have pushed through the COVID barriers to make the best of their learning. We were fortunate to have been able to run some extracurricular events this term which have been briefly outlined below.
Before returning to school many students attended the Australia Day Ceremony with many receiving awards on the day.
Bus Safety Talks early in the term prioritised the safety of all children.
Keeping cool and having fun at our school swimming carnival was also a fantastic event to encourage active participation across Kindergarten to Year 12.
Mid term, our Kindy teachers were busily conferencing with the children to pinpoint their learning needs using the Best Start Program.
Week 7 saw us celebrate Catholic Schools Week where K-12 gathered outside to acknowledge and celebrate the quality learning and support that we offer each other at Saint Raphael's.
In Week 8, Stage Two and Three boys participated in a rugby league gala day where they played with confidence and competence.
Stage Two and Three students have been given the opportunity to participate in our Country Women's Association Public Speaking competition. They have been currently working towards delivering their speeches at a school level.
All staff participated in a twilight Professional Learning session that focussed on Student Engagement.
Our cross country trials were also a great success in Week 9.
The Festival of International Understanding Parade saw our leaders and ambassadors and teachers proudly march with the younger member of our Saint Raphs family. The Kinder To Year 6 window display efforts resulted in us being awarded First Prize, which is a wonderful achievement and a great way to finish the term.
Finally, throughout the term, students have also been learning songs, rehearsing skits and verse speaking in preparation for the Cowra Eisteddfod performance in mid May.
We've had such eventful and rich learning experiences this term and it is time for a break from school. We wish everyone a happy and peaceful Easter and look forward to seeing everyone next term.
Mrs Kylie McNamara - Primary Curriculum Coordinator

Year 2 Science Space
Year 2 has been busily investigating living things this term. Focussing on life cycles and survival needs, Year 2 learned the importance of bees in our world and as part of our quest to look after the environment, we made bee motels to hang in our school yard.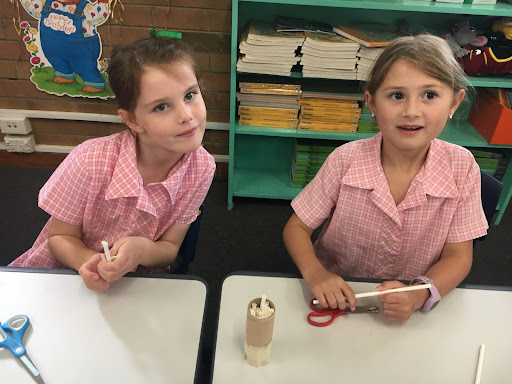 Prev
Showing images
1 - 8
of 12
Next
Stage 5 Agriculture
On Tuesday of Week 9 the Stage 5 Agriculture class escaped the classroom for a visit to a local property. Mr Gallagher made a guest appearance as our bus driver and we made the short journey out the road to Catherine McGoldrick's. The purpose of our visit was to observe and discuss her beef cattle herd and put some safe handling skills to the test.
During our lessons students have been learning about stress free cattle handling and using the natural behaviour of the animals to dictate the design of cattle yards and infrastructure. They were able to see first hand the 'point of balance' and 'flight zone' of the cattle as they moved them through the race into the crush. We also had a fantastic discussion about the breeds that Catherine runs, their traits and the benefits of cross breeding.
The students are looking forward to a return trip next term, especially if there are more baked treats at the end of the visit.
Mrs Alex Makin - Agriculture
Primary Industries

Y12 VET Primary Industries covered 3 modules this term. We looked at Small Engines. Feeding Sheep and Monitoring Water. Y11 looked at WHS, Basic Stock Handling, and completed their First Aid Certificate. The rural community has been fantastic at allowing our students to talk with experts in the field. A huge thank you to Catherine McGoldrick of Karawi Hill Stud, Besedics Motorcycles and Small Engines, DPI, Marks Pumps, Lachlan Fertilizers, and Boyds Metal Works for fitting us in to their busy schedules.
Mr Ben Cooley - Primary Industries

Extra-Curricular Activities
Our Year 9 & 10 Duke of Edinburgh Award students have been kept busy recently with a hike in the Weddin Mountains and by volunteering at the Canowindra Balloon Challenge.
Canowindra Balloon Challenge
The Duke of Edinburgh Award students are members of the official scoring team at the Canowindra Balloon Challenge and together form the St Raphael's Catholic School 'Target Team'. Today the group was in charge of setting up Task # 3 which was named the Gordon Bennett Memorial. Pilots had to land their marker in an equilateral triangle (with sides 50m in length) that the students set up about 5m from a target. The students then had to measure the distance the pilot's markers were from the target. The winning pilot for the task was Nicola Scaife who landed her marker 11.99m from the target.
Weddin Mountains Hike
The Year 10 Duke of Edinburgh Award students took part in a two day hike in the Wedding mountains. The hike started at Holy Camp just outside of Grenfell and followed Eualdrie Track over to Ben Halls Campground. Once at the campsite, the students set up camp for the night and prepared dinner. The group then hiked by torchlight up to Ben Halls Cave and learnt about the historic site. In the morning the students woke early and headed back for Holy Camp.
Mr Andrew Phelan - Duke of Edinburgh

St Raphael's P&F
2022/2023 Committee Members
At its recent AGM, the following members were appointed to Executive roles with the St Raphael's Parents and Friends Association Committee.
President - Simon Bray
Vice President - Michelle Wydmuch
Treasurer - Tim Davies
Secretary - David Lette
Publicity Officer - Stacey Last
Congratulations, and thankyou to our Parents and Friends who continue to support our school in this capacity.
Sports Wrap
Wow! Term 1 has been packed full of amazing sporting opportunities for our students.
Students have been encouraged to participate in an array of participatory and competitive sporting endeavours that allows them to develop their social, physical and emotional wellbeing.
Cross Country
Last week, Years 2-6 students participated in the Primary Cross country trials. The weather was perfect for students to walk, jog or run the 2km course at River Park. It was fantastic to see great enthusiasm around the track.
Year 10 PDHPE students also implemented the coaching skills that they had been developing all term as they coordinated fun activities for students to complete while they waited for their races.
The Primary Diocesan Carnival will be held in Coolah on 3 April, 2022.
The St Raphael's team list will be announced to students this week and parents will receive information via compass.
Bill Turner Football - Preliminary Round
Our 15s Bill Turner girls and boys Football team recently travelled on the school bus to Grenfell to compete in the Preliminary Round against The Henry Lawson High School. Mr Cooley and Miss Oliver coached the teams on the day and said that both games were evenly matched and full of excitement.
Chad Charnock and Cameron Murray opened the scoring for the boys match. Zac Smith showed great skill scoring two goals to consolidate the 4-3 win.
The girls game was very tight, but Allie Woods and Maddi O'Reilly both scored to consolidate a 2-1 win.
Both teams will now travel to Forbes to play in the Round 1 & 2 Gala Day. Further information will be sent to parents via Compass.
Diocesan Football Trials
Kai Fitzgerald, Kyan Heidke, Flynn Bennett and Matthew Mallon attended the Secondary Diocesan Football Trials in Bathurst. All four boys demonstrated their athleticism in a range of training drills and matches.
A special congratulations to Matthew Mallon who was selected in the team and will now attend the Southern Region Trials in Bathurst on 5 April, 2022.
NSW All Schools Cricket Championships
Michael McNamara recently attended the NSW All Schools Cricket Championships in Raby. Championship matches were played from Tuesday 22 until Thursday 24.
Michael demonstrated his skill with the bat and as a wicketkeeper. He was selected as a shadow player for the NSW All Schools Team. We are extremely proud of you Michael.
Athletics Carnival
The staff at St Raphael's are working hard to secure new dates for the Primary and Secondary Athletics Carnivals. These are yet to be finalised. We will update you with further information as soon as possible.
Upcoming Sport
Thursday 7 April, 2022 - Stage 4 AFL Development day
This Thursday stage 4 will attend an AFL development day. This will be run by the Central West AFL development team at River Park. In the morning students will participate in a range of fun training sessions before putting their skills to practice in a friendly match in the afternoon. Students will walk with their teachers to River Park after Homeroom. Students will be asked to wear their Sports Uniform on the day and pack their own lunch and water.
Wednesday 27 April, 2022 - Schools Cup Netball and Soccer Gala Day
Primary Students will start Week 1 of Term 2 with an exciting sporting opportunity. Our Stage 2 & 3 students will participate in either the Schools Cup Netball or the St Raphael's Soccer Gala Day.
Mr Statham and Mrs O'Reilly have taken nominations and organised teams for the day. Further information about this day will be sent to parents via Compass this week.
Tuesday 26 & 27 April, 2022 - CCC 16 Boys Rugby Selections

Wednesday 27 April, 2022 - CCC 7s Rugby Selections

Wednesday 27 April, 2022 - Primary and Secondary Schools Cup Netball

Tuesday 3 May, 2022 - Primary Diocesan Cross Country, Coolah

Wednesday 4 May, 2022 - Secondary Basketball Gala Day

Thursday 5 May, 2022 - Secondary Diocesan Cross Country, Orange

Friday 6 May, 2022 - Secondary Teams Tennis, Orange

Monday 9 May, 2022 - Round 1 & 2 Bill Turner Football Gala Day, Forbes
Mrs Larissa Gallard - Sports Coordinator
David Peachey Rugby League
On Tuesday 22 March, nine Stage 3 boys took to the field wearing the mighty green and gold colours of St. Raphael's. They were representing the school in the local Rugby League Gala Day.
Our first game was against a combined Cowra Small School's team. The boys were riding high after this match, coming away with a 48-8 win.
Game two was against a very strong Canowindra 1 team. They hit hard in defence, but we didn't fall to their level in attitude, winning 24-16.
Finally, our last game was against Cowra Public School 1, who were also unbeaten in the first two matches. The challenge was set to walk away undefeated on the day. By the end of the game, we had run out of reserves, but we had also run out winners! 28-16.
Undefeated!!! The boys performed admirably all day, digging deep in defence and running riot in attack.
Charlie "Paulo" Smith was a wrecking ball in attack, charging up the middle for two tries. Harry "Blake" Frazer crossed for four tries, with good enthusiasm shown all day. Four tries for Finn "Moses" Sheehy, who was great at first receiver for a lot of the day. Angus "Brown" Anning led the boys around the park well, with lots of good talking, scoring one try. Nick "Matterson" Green tried hard all day, also crossing for one try. Will "Mahoney" Allan was great out of dummy half, scoring three tries. Jack "Lane" Ousby gave of his best all day, being unlucky not to score in the last match. Braith "Niukore" Charnock crossed for one try and was strong all day. Finally, Sam "Gutherson" Tydd played out of his skin in what will be his first year of full time weekend footy this coming year, scoring nine tries in total.
A lovely bunch of boys playing the greatest game of all. Well done. Thanks to all of the parents and grandparents who attended on the day to cheer on our chargers.
Mr Grahame Statham
Canteen
Please find attached our Summer Canteen Menu for 2022. This menu will be effective for Term 1.
This fortnight's canteen roster is as follows
Tuesday 5 April - Michelle Wydmuch, Kristy White, Jainee Ryan
Wednesday 6 April - CLOSED
Thursday 6 April - Michelle Wydmuch, Lisa Hall

+ HELPER PLEASE

Friday 7 April - PUPIL FREE DAY
If you would like to speak with Donna about joining the Canteen Volunteer team, please call her on 0427 501 508 or register your interest here.
Positive Learning Behaviour - Primary
Congratulations to our primary students who have achieved the next level on our Behaviour Management Program.
Anantavir Dhumi - 3 Gold
Willow Harris - 3 Gold
Joshua Launders - 3 Gold
Will O'Reilly - 3 Gold
Harrison Sheehy - 3 Gold
Maddison Thomas - 3 Gold
Beau Tremble - 3 Gold
Toby Woodhouse - 3 Gold
Gabrielle Bryant - 3 Green
Noah Campbell - 3 Green
Tilly Gundersen - 3 Green
Lexie Kennedy - 3 Green
Elsie Meyers - 3 Green
Beatrix Perry - 3 Green
Jimmy Smith - 3 Green
Molly Vella - 3 Green
Harper Chalker - 4 Gold
Connor Frazer - 4 Gold
Gaella Gaju - 4 Gold
Claire Harrison - 4 Gold
Max Holmes - 4 Gold
Lucy James - 4 Gold
Cameron McAlister - 4 Gold
Claire McLennan - 4 Gold
Archie Frazer - 4 Green
Angus Anning - 5 Gold
Thomas Bryant - 5 Gold
Jacob Cranney - 5 Gold
Jack Graham - 5 Gold
Georgia Kennedy - 5 Gold
Ned Osborne - 5 Gold
Nick Green - 5 Green
Max Osborne - 5 Green
Atticus Hatzistamatis - 6 Gold
Charlee Woodhouse - 6 Gold
Milla O'Reilly - 6 Green
Charli Raynolds - 6 Green
Emma Tremble - 6 Green
Oliver Tydd - 6 Green
Samuel Tydd - 6 Green
Maddy White - 6 Green
Your Teachers are very Proud of You!
Community Connections
Language & Culture Online Camp

For families of students who are Aboriginal and/or Torres Strait Islander in Year 1- 6 you are invited to register your child's interest in the upcoming Language and Culture Online Camp and nominate Mrs Kiri Hubber our AEW as the supervisor.