Term 4, Week 2 Newsletter - Monday 17 October
Principal's Report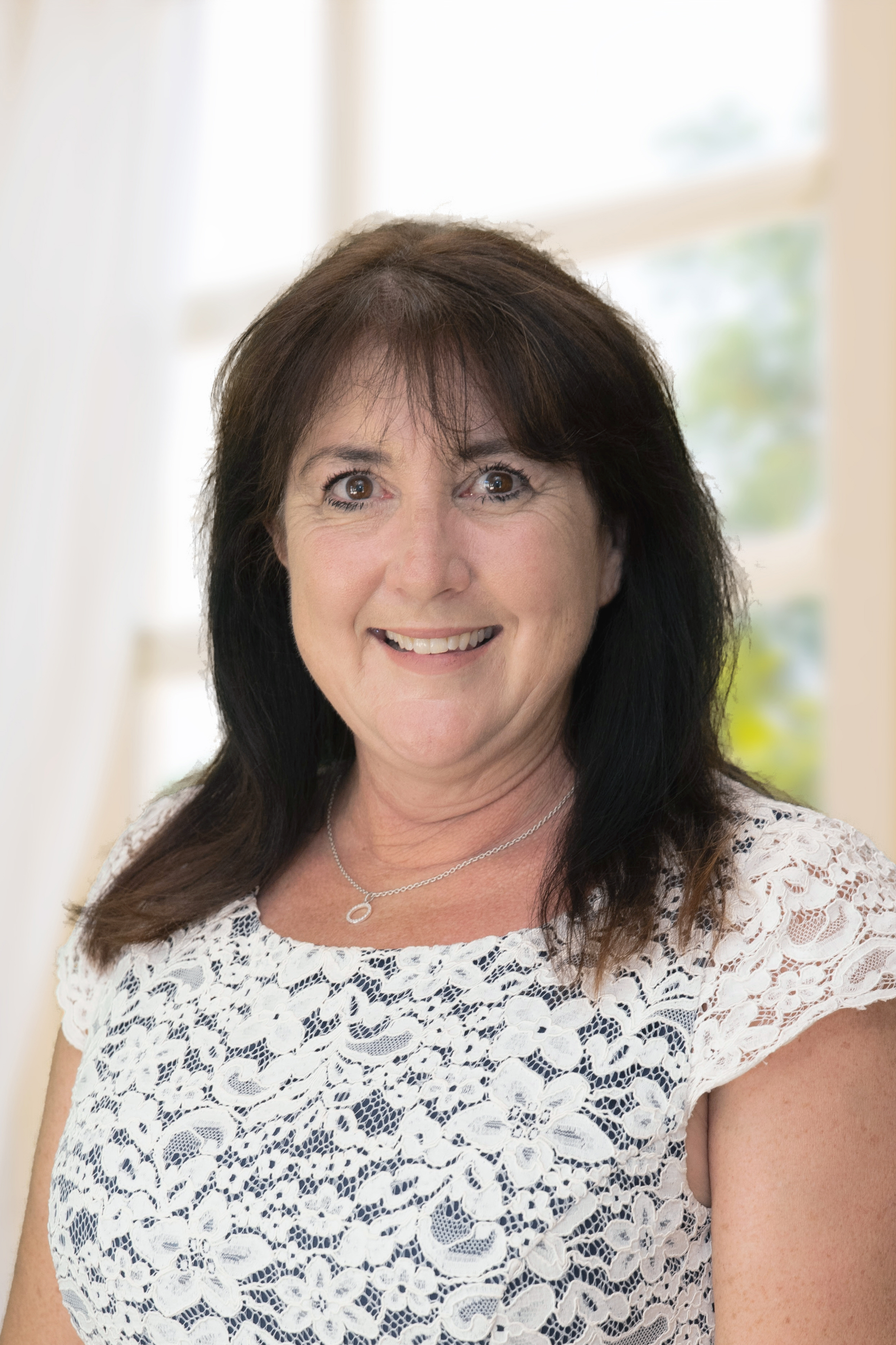 Dear Parents and Carers
To commence our Term, I would like to congratulate our Assistant Principal, Ben Thomson for being selected for permanency in the role for 2023. I am grateful for having Ben working alongside me as we continue our great journey into the future. I would also like to announce our new Leader of Learning Engagement, Kylie Mullholland. Kylie will join our St Raph's family in 2023. Her role is very important to continue the journey we have begun in 2022 in wellbeing. Finally but not least, we welcome Alistair Scott as your Youth Minister in 2023. Alistair brings excellent skills in music and drama, skills which will bring joy to our students as they experience and develop their faith.
Upon reflecting what is ahead in our agenda for Term 4, it is evident that we have a very busy time ahead of us. In particular in Week 3 we have our school musical, The Lion King Jr. The students are all involved in final rehearsals in preparation for our wonderful community event. We also have our Bathurst Diocese Executive Director and Diocean Consultant attending, along with our Deputy Mayor, Judi Smith coming to see our wonderful school on stage.
I would like to thank Tamatha Olbourne (director), Rachel Butcher (musical director) and Samantha MacCabe (dance director) for their absolute dedication and commitment to the many hours required in organising and executing a school production. In particular we have over 300 students on stage, which is an enormous undertaking. Thank you also to Michelle Coombes (set design) and Peter Lowe (pride rock) for making our vision come to life. Thank you to the parents, students and other community members who have donated their time towards the set and costume.
A reminder to all primary parents to please ensure $15 is paid for the Lion King costume as soon as possible. This may be done via Compass Events.
Don't forget to purchase your musical tickets. Friday is now SOLD OUT and very few tickets remain for the Saturday matinee and evening perfomances. You won't want to miss out!
As you have noticed, our new front fence is almost complete. This will be another step towards ensuring our students are safe. The next steps will be removing the garden beds and concreting the whole area so walking hazards are removed and we can add seating for secondary students. We are also receiving quotes for shelter over the primary seats with an extended area for secondary so we have an all weather area and students do not have to wait in the school hall during rain. As you are aware these things take time so please be patient.
All remaining old water bubbler bays will be removed and new cold/filtered water bays will be added, so we will have a total of 6 water bays for students. Hopefully they will arrive and be erected before students return in 2023.
We are aiming to make our canteen more efficient for families, students and staff. In the coming weeks we are looking at implementing an online lunch ordering system. At present the orders are very time consuming for canteen staff and parents need to have cash. This online option will unfortunately incur a cost of $0.29 per order/transaction, however we anticipate that the benefits of online ordering will be taken up by many families.
In 2023 our Strategic Learning Plan will be targeted towards the two significant areas we have begun in 2022: Wellbeing and Learning. It is imperative that we continue each journey and recognise that learning and wellbeing go together. If a student's wellbeing is poor the student is unable to learn. The learning journey that staff are undertaking is focused on ensuring every student has clarity in their learning through learning intentions and success criteria, and learning targeted towards surface, deep and transfer. This type of learning is inquiry learning, enabling our students to develop skills such as being curious, problem solvers, critical thinkers, independent, interdependent and autonomous learners.
As a catholic school it is important that we sustain our faith journey as staff and students. So within our wellbeing and learning journey, staff and students will focus on catholicity through Catholic social teachings.
The following diagram briefly highlights our three core areas.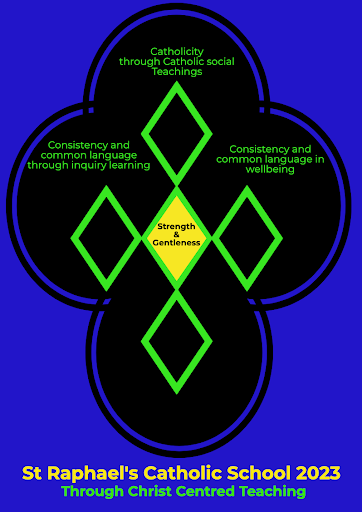 God Bless
Michelle Deschamps
Principal
Faith & Life
October the Month of the Rosary
The month of October each year is dedicated to the Most Holy Rosary. This is primarily due to the fact that the liturgical feast of Our Lady of the Rosary is celebrated annually on October 7.
During this month we are encouraged to Pray the Rosary. The following link provides a simple way we can pray the Rosary:
https://www.corpus.wa.edu.au/news-blog/2020/5/1/how-to-pray-the-rosary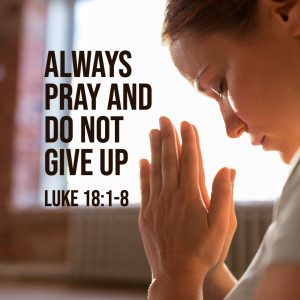 Mission Month
Each year Catholic Mission dedicates the month of October to Mission Month. This year we will be raising awareness for Missions through activities and out participation in Socktober.
What is Socktober?
Socktober cultivates the passion of students to rise up, engage their local community and take action against poverty through the world game of soccer.
It provides young people in Australia with the opportunity to lead in mission, encouraging them to think not only of what they will do to help, but why they will do it.
Altar Servers at St Raphael's Parish
Saturday 22 October - Charli Raynolds & Georgia Campbell
Sunday 23 October - Joshua Launders & Sam Launders
Saturday 29 October - School Leaders
Sunday 30 October - Sienna Launders & Laura Bennett
What's On This Week
Administration
Pupil Free Days

As part of our staff professional learning program for 2022, two pupil free days have been scheduled for Term 4;
Wednesday 16th November
Friday 16th December
Wednesday's learning focuses on relationships and connection to faith. We will explore the school's charisms, history and how this is used to build relationships and connections to faith with ourselves and students. We will also be exploring Aboriginal spirituality.
Friday's learning will consist of two sessions with the upskilling of staff in CPR and basic first aid. We will also be looking at using the learnings from our inquiring learning focus and plan to further develop strategies to implement into our classrooms which increase teacher clarity and learning clarity.
As a result, there will be no classes or supervision of students on Wednesday 15th November and Friday 16th December.
The last day for students for 2022 will be Thursday 15th December.
Please do not hesitate to contact the school if you have any questions in relation to this matter.
Scholastic Book Club
Welcome back to a new term! Scholastic Book Club Issue 7 has now been distributed to primary students. If you wish to purchase an item, please ensure your order is returned to the school, or placed online by this Friday 21 October. Thankyou.
Miss Christine Webb - Scholastic Coordinator
Canteen
Please find attached our Summer Canteen Menu for Term 4. Please note that toasted sandwiches and wraps are not available on the summer menu - all sandwiches and wraps come fresh. Parents are also reminded that chicken dino's (nuggets) are no longer available at the school canteen. (A gluten free option is provided only for those students with known wheat allergies).
This fortnight's canteen roster is as follows
Tuesday 18 - Anna Thirkell

+ HELPER PLEASE

Wednesday 19 - CLOSED
Thursday 20 - Kathryn Keefe, Anna Thirkell

+ HELPER PLEASE

Friday 21 - Michelle Wydmuch, Kylie Kollas, Kristy White
Monday 24 -Briony Woodhouse

+ HELPER PLEASE

Tuesday 25 - Trish Gundersen, Lisa Mallon
Wednesday 26 - CLOSED
Thursday 27 -

Anna Thirkell

+ HELPERS PLEASE
Friday 28 - Michelle Wydmuch, Jess Newcombe, Anna Thirkell
If you would like to speak with Donna about joining the Canteen Volunteer team, please call her on 0427 501 508 or register your interest here.
Curriculum News
Mimmi Birrang
Miimi Birrang, our girls cultural engagement program for years 7-10, will continue this term and will recommence this week with Mrs Kiri Hubber and Beatrice Murray. Sessions will be from lunch through to and including period 5 on Thursdays in an A week and Fridays in a B week.

Sport Spot
The sport committee would like to welcome all of our students back for another exciting term. St Raphs has a number of exciting opportunities ready for our children for Term 4.
Our Secondary PASS classes will also be running some exciting lunch time sports competitions.
Upcoming Sport
PCYC Touch Football Competition - Every Monday night from 17 October

NSWPSSA Athletics Championships - Wednesday 19 October

Primary Summer Sport Trials (Cricket and Touch Football) - Thursday 27 October

Primary Summer Sport Trials (Basketball and Tennis) - Friday 28 October

Primary Todd Woodbridge Cup Tennis Final Sydney - Monday 14 November

School Sports Australia Golf Championship - Sunday 12 November to Thursday 17 November

Stage 3 Cowra Tennis Competition - Friday 18 November

Primary Intensive Swim Program - Weeks 8 & 9
Cancellations
Unfortunately the events listed below have been cancelled for 2022. Parents and students impacted by this will receive an email via Compass with further details.
Secondary Schools Cup Netball Finals - Wednesday 12 October

Secondary Touch Football Gala Day - Wednesday 19 October
Community Connections
Scouts for Cowra – Building Character, Leadership and Resilience
Scouts provides a great opportunity for young people, girls and boys, to join a worldwide movement of 50 million members, focussed on building character, resilience and leadership opportunities for young people through a system of badgework where members progress at their own rate in areas of interest for them, with the support of highly trained leaders.
In addition to the tradition Scouting activities of bushcraft, hiking, canoeing and sailing, youth members can develop skills in science, engineering, technology and cultural areas. We have groups focusing on environment and another called "Messengers of Peace", something very relevant to Cowra. We focus on giving all youth members the chance of building their leadership skills.
This year a number of Scouts from Western NSW will attend the World Jamboree in Korea, joining thousands of other Scouts from around the world, for an experience they will never forget!
Our sections include: Joey Scout – 5-8 years, Cub Scouts 8-11 years, Scout 11-14 years and Venturers, 14 -18 Years.
Check out our display at the Cowra Show where you can meet our leaders and find further information. You can also contact David Scott, Region Commissioner, 0438612874, or email David.Scott@nsw.scouts.com.au