Term 4, Week 10 Newsletter - Monday 12 December 2022
Principal's Report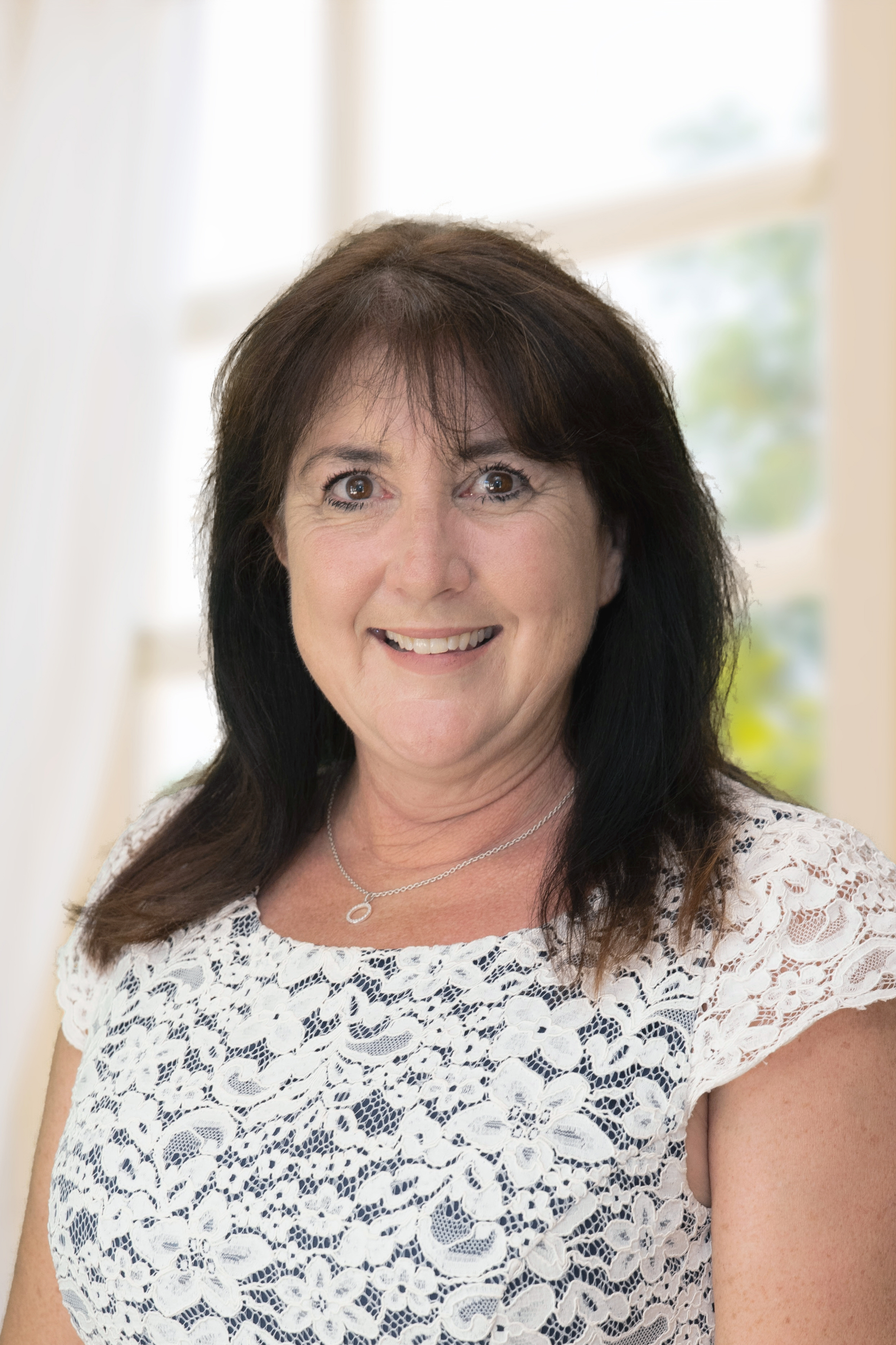 Dear Parents and Carers
2022 commenced with me as the new principal and my first appointment. What a ride we have had! Many highs and numerous lows. The most significant low being that COVID caught up with our staff. Please know that the gracious and committed staff we have, dedicated their time to supporting our student learning during the year, working above and beyond the call of duty.
We are blessed to have built our St Raph's family this year with new leaders and staff. In particular we are blessed to have Mr Thomson as our Assistant Principal. We have numerous staff who have joined us along the way: Raelene Beecher (Year 6), Craig Jeffries (Secondary, Wellbeing Coordinator), Anita Arber (Year 2), Tamatha Olbourne (LOTE, HSIE), Brenton Carter (Secondary), Pip Freebairn (Science), Meggan Ellison (HSIE), Georgina Gough (Year 1), Allistair Scott (Youth Minister), Lydia McMillan (Counsellor), Rachel Butcher (Music Teacher K-12).
Leaving us in 2022 is Peta Bischof who we wish enjoyment in retirement …. although Peta has threatened to still be around casual teaching. Before Peta leaves I want to highlight how dedicated Peta is to our school such as hosting a huge gathering of Rotary, Cowra dignitaries and Ukrainian refugees this year, and consistently developing the culinary skills of her students by designing staff morning teas and developing their coffee making skills. Peta has made a significant impact via hospitality, on many students' lives. Also Renae Downes is leaving to go to One School Global, we wish her happiness there in her new teaching venture.
Personally, I want to highlight the enormous journey we have had this year. Upon commencement, I never intended or dreamed that we would achieve so much in a year. The old mantra for a new staff member is to see a year out the way things are, and then start to make changes. Sometimes I wish I had listened to that advice!
The significant journey of 2022 in a nutshell (please be advised we can not possibly mention everything)…….
Before school commenced I had a conversation with our sports coordinator Larissa Gallard. In this conversation I empowered Larissa to make 2022 the best year of sporting opportunities ever. I think you will attest to the fact that Larissa has put St Raph's on the sporting map. We are now a school to be reckoned with!
At the beginning of the year I had numerous staff, parent and student meetings. First I met with all the staff so they could tell me about themselves and get to know me. It was a great way to understand the school journey, and for staff to let me know their thoughts and ideas. Many of which we have acted on. Parents and students also met with me, and it became apparent that bullying in particular was a significant concern. So we developed an anti-bullying policy in consultation with all stakeholders. Students are challenged to be upstanders, and consequently we have had a positive impact, and consequences are very clear.
Early in the term we developed our new school prospectus. With thanks to Kristy White's expertise, we highlighted the many awesome qualities that St Raph's has to offer. During this time we also organised air conditioning for all primary classrooms, new blinds throughout primary and the office area, reinvigoration of the reception area with painting, carpet and decluttering, new staff toilets and staff room, and we initiated staff blessings and Friday staff morning tea. We also started our journey with Michael McDowell, world leading inquiry learning expert, so all staff were collaboratively learning and developing consistency, common language and clarity across K-12. The learning staff have undertaken was conducted in learning twilight sessions and consequent staff and facility meetings.
We participated in numerous Cowra events this year such as Cowra Eisteddfod, Memorial Day, Anzac Day, Festival of International Understanding and Australia Day. Our students have been recognised as exemplary representatives of St Raph's, and we have had many award recipients.
The Duke of Ed commenced for the year with renewed vigour, ultimately seeing a great cohort participating and many students achieving bronze and onto their silver. In 2023 we will have some students undertaking gold. The hot balloon experience is my own highlight with students. I have never been that close to hot air balloons. Totally spectacular!
Luke O'Reilly introduced the Breakfast Club in collaboration with Food Bank and Coles. A fantastic initiative that Luke has worked tirelessly with all year. The students love having breakfast together. A number of students have stepped up as leaders, making toast, setting up and cleaning up. Also Renae Downes brought Raphy into our St Raph's family. I am sure you will attest to the love the students have for Raphy.
Being a Catholic School our students are involved in numerous retreats. The retreats Karla Slaven has led have been highlights in each student's education. Our various camps and excursions have also been significant learning experiences in developing the whole person. I personally loved being with Year 12 at their career expo day, the AWI Shearing Day with our Ag students, and the Kindergarten Day at Goat Hill. Our students have also contributed to numerous fundraising and awareness events in social justice activities (the most I have ever been involved in!) such as Movie Night, School Socials and Heritage Day. We have sent our sights even higher for 2023.
The Rite Journey led by Gab Zideluns and Peter Lowe has been an awesome journey for our boys and girls in Year 9. Rigorous conversations and invitational speakers have enabled our students to navigate the pertinent questions and issues affecting them.
This year we have had a whole new rearrangement of our Wellbeing Team, being led by Amy O'Reilly, along with Luke O'Reilly, Craig Jeffries and Gab Bischof. Each has made significant progress with our wellbeing structures and development of our Wellbeing Policy and Procedures (contextually based - from the ground up). Each of our Wellbeing Team has contributed significant growth in changing our culture with clear expectations, merit acknowledgements and ensuring that attendance matters!
The master planning for St Raph's was stalled due to a new principal arriving. My apologies! We have not progressed very far despite pushing, but will have renewed vigour for 2023. We will share the planning as it is devised. The new school hall and student bathrooms will feature.
In 2022 we ventured into producing a polished and very professional school musical, The Lion King. This was directed by Tamatha Olbourne (Director) and Rachel Butcher (Music Director), with Sam McCabe as the dance director (supported by Cherie McCabe). I am sure you will attest to the fantastic production your sons and daughters were in. We had around 300 students involved. It was a massive undertaking. The memories and life skills our students developed as a result is profound. So a tradition has commenced!
Gab Zideluns, our quiet achiever has provided many opportunities for our students such as public speaking, debating and the launch of Write a Book in a Day. The latter initiative has raised significant interest in our students in a focused, timed and challenging event.
This year we have increased our connections with PCYC, AG Society, HeadSpace and Hell Horton. Together we are developing ways to support our vulnerable students to both engage with school and achieve success with their dedication, commitment and support of our students.
We have launched the Portfolio for Life Program. The program ensures we are meeting every student where they are at, and providing opportunities to develop work based skills, whilst completing both school and working in the community.
The many opportunities undertaken by Kiri Hubber and Chris Colemane this year have been thoroughly rewarding for our indigenous students. For example Miimi Birrang (for our girls), and for all of our indigenous students from K-12, being involved in the Lion King for the Acknowledgement of Country, was truly memorable and a notable community event.
We thank the P&F for their commitment this year. Whilst it is a small group of committed parents who give up their time, this year the P&F ensured all students in K-6 and the cast had a Lion King T-Shirt, and donated 4 ping pong tables to the students so they have additional activities during break times.
Our school bubblers will all be cold and filtered water in 2023. Our last shipment has arrived. No more rusty hot water! Also primary hallways received a fresh makeover and new blinds installed (which also help meet our lockdown requirements). New furniture arrived for some classes, and the rest will have new furniture early Term 1.
We have provided bus seating for primary students (and soon to be weather cover) so they are no longer sitting on the ground, and have new front fencing (soon to receive intercom and fob locking for added security.
And we have so much more to celebrate! There are so many things not mentioned which are significant in the life of a year at St Raph's, and make an enormous impact on our students.
I want to thank all the staff who supported our school socials: Mrs O, Mr Lette, Ms Olbourne, Mrs McCabe, Mrs Flannery, Mr Thomson, Mrs Bennett, Mr Carter, Ms Bischof, Miss Allen, Mrs Butcher, Mr Phelan, Ms Zideluns, Ms Freebairn, Mr Jeffries, Mr Chris, Miss Ellison, Mrs McNamara, Mrs Stokes, Ms Wydmuch and our parent Mrs Richmond. Thank you also to Mr Holmes for always being there for support. We all had so much fun dressing up.
Last week I attended the graduation ceremony for our Fit for School and Fit for Work students at PCYC. It was an extremely proud moment for both students and staff. The students have achieved wonderful credentials to support their CVs. So proud of these students! Their success is evidence of the vital relationships between PCYC, CINC (our Hell Horton) and St Raph's.
I topped off my year with special craft sessions with Year 6. I am so truly blessed to have primary school in my life! The amazing Year 6 students rotated around the class to make Christmas craft for their Joshua Tree. Whilst my art was from my childhood memories of making wool dolls for the Christmas tree, I was blessed to work with our wonderful students before they embark on secondary school, discussing Christmas traditions.
I want to finalise by stating how blessed I am to work alongside awesome staff, students and parents. With so many highlights, I have to say having K-12 in my life is an ultimate blessing. We can achieve significant gains from a K-12 journey. Watch out 2023 here we come!
I wish and pray for a blessed Christmas for all families and staff, and a wonderful healthy and happy New Year!
God Bless,
Michelle Deschamps - Principal
Faith & Life
Third Week of Advent
Loving God,
We give you thanks for the blessings of this holy Advent season. You are the source of life, of hope, and of all good things. We look forward to the coming of the light of Christ at Christmas. Help us to turn toward that light in our lives. We rejoice at the gift of your Son who taught us to love in your name. May we be people of peace and justice all the days of our lives. Your kingdom come and your will be done now and forever. Amen.
May you discover God's love active in the world this Christmas, and share that love with others.
Christmas Mass Times for St Raphael's Parish
Christmas Eve Saturday 24 December
6pm Mass Eugowra (in the Anglican Church)
7pm Mass Gooloogong
7pm Mass Cowra (outside in school grounds, or in St Raphael's Church if raining)
8pm Mass Canowindra
10pm Mass Cowra (St Raphael's Church)

Christmas Day Sunday 25 December
9am Mass Cowra (St Raphael's Church)
9am Mass Canowindra
Bishop's Christmas Message 2022
I am standing at your door, knocking
The last book of our Bible, whose title is sometimes translated as Revelation, sometimes as Apocalypse, begins with messages from Christ to seven ancient churches.
The final message is to the church in Laodicea, with strong, even crude words to them for being lukewarm and complacent, trusting in earthly wealth. (Rev 3:14-19)
But it is really a message of hope, holding out the opportunity to turn back to God and start again. Its final words are one of the most beautiful invitations in the scriptures:
Behold, I stand at the door and knock. If you hear my voice and open the door, I will come in and eat with you, and you with me. (Rev 3:20)
Jesus is knocking at our door. Let him in, and you will have the guest who will bring light and life and peace to your family.
I wish you a very happy Christmas and blessings of peace and spiritual prosperity in the year to come.
+Michael McKenna - Bishop of Bathurst
Altar Servers at St Raphael's Parish
Saturday 17 December - Charli Raynolds, Georgia Campbell
Sunday 18 December - Joshua Launders, Samuel Launders
Saturday 24 December - CHRISTMAS
Sunday 25 December - CHRISTMAS
The Angelus
Praying The Angelus together as a whole school community has become a daily moment of reflection for all students and staff. Here, our representatives from Year 2 participate in the call and response with Mrs Deschamps, displaying wonderful reading skills, confident public speaking ability and prayerful reverence.
What's On This Week
Administration
Class Parties and Disco - Wednesday 14 December
Infants and Primary class parties will be held on Wednesday 14 December from 12:30pm. All children are requested to have brought in $2 for party food. Christmas themed mufti is encouraged! A K-2 and Year 3-6 disco will take place in the afternoon. (Year 6 are reminded to bring their thongs or slides for chair washing in the morning)
Secondary Lockers Cleared Out - Wednesday 14 December
Years 7-10 need to have their lockers completely empty by Wednesday 14th December.
End of Year Mass & Kindergarten Nativity - Thursday 15 December
The K-12 End of Year Mass will be held on Thursday 15 December at 9:30am at St Raphael's Catholic Church. A reminder to all students and families that Summer Uniform is to be worn for this event. All families are invited to attend, and a highlight will be the annual Kindergarten Nativity Play.
Thursday 15 December is the last day of the year for all students.
Friday 16 December is a PUPIL FREE DAY
COVID Tests Available
An additional 5 RATs are available per student for collection from the school office, prior to the end of the year. These may be used to support families with routine surveillance testing over holiday break. Please note that parental/adult collection of RATs is preferred.
2023 Term 1 Start Dates
The following Term 1 start dates have been confirmed for 2023:
Friday 27 January - PUPIL FREE DAY
Monday 30 January - Years 1-6, 7 & 11 Students and Year 12 Leaders return
Tuesday 31 January - Kindergarten Students start and Years 8, 9, 10 & 12 Students return
2023 School Fees
The Fee Schedule for 2023 has been released, and is provided here for your information and planning. The increase in fees within systemic Catholic schools in the Diocese of Bathurst have been limited to 2.5% for 2023.
Please remember, Fee Relief remains available for those parents who are facing financial hardship. If you have not done so already, please contact your school for a Fee Relief Application.
2023 Stationary/Equipment Lists
Student stationary requirements for 2023 are available by following these links:
The process of students accessing school owned devices throughout the school day will cease in 2023, therefore students 7-10 will need to have thier own device. Many of our students already have a Chromebook, however if your child has not purchased a device from previous years, a purchase portal is again available at https://www.straphaelscowra.catholic.edu.au/byod-purchase-portal. The School Code is RCSCBYOD. The portal will guide parents through the purchase process, and offer additional options such as extended warranty and insurance.

Students in Years 11 -12 are still permitted to bring a laptop or chromebook which fits within a boundary of specifications that make it appropriate to students' needs and allows it to be connected to the school network.

Addtional information is attached. Please do not hesitate to contact the school with any enquiries.
Financial Support for Year 12 School Leavers
Information regarding the Government's Support for Year 12 School Leavers is available here.
Scholastic Book Club
Scholastic Book Club has now finished for 2022. Thankyou for your participation ! As a result of your support, the school has acquired the equivaelnt of approximately $1,500 in rewards. This, in turn, is being used to purchase resources for the libary and classrooms that will continue to assist in your children's learning experiences.

May you all have a Happy Christmas.
Miss Christine Webb

Canteen
Special Canteen Orders - Week 10
Please note that the regular canteen menu is unavailable in Week 10.
Pre-orders of special lunch items closed last week, and morning tea will be limited to pancakes, muffins and mousse.
This week's canteen roster is as follows
Tuesday 13- Karen Campbell, Trish Gundersen
Wednesday 14- CLOSED
Thursday 15 - Kristy White

+ HELPERS PLEASE

Friday 16 - PUPIL FREE DAY

Monday 19 - SCHOOL HOLIDAYS
If you would like to speak with Donna about joining the Canteen Volunteer team in 2023, please call her on 0427 501 508 or register your interest here.
Curriculum
Year 11 Business Site Study
Year 11 Business Studies met up with the owner of Gingerbird Cafe, the new coffee shop in Kendal Street. Our students were able to chat with him about a few of the practical elements of setting up a new business. It was fascinating to hear...and the coffee is good!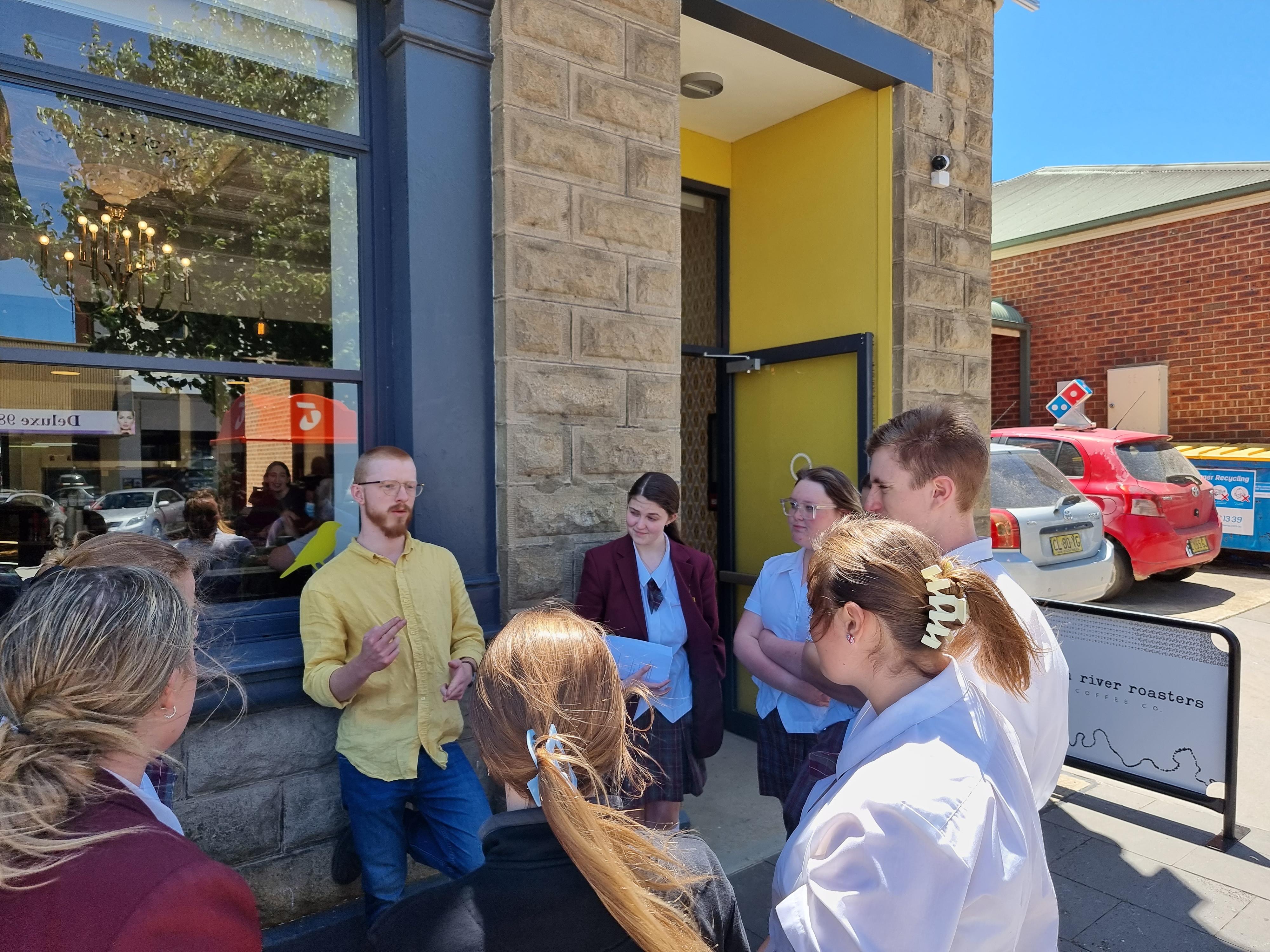 Sport
AFL Skill Development Day for Years 4-6 - Tuesday 13 December
Students from Year 4, 5 and 6 will be attending an AFL Development Day on Tuesday 13 December. It will be held at River Park and students will walk to and from the venue with their teachers within school time (9.30am - 2.30pm). All students from Year 4 to Year 6 will participate and are to wear their Sports Uniform. Students will need to pack their own recess, lunch and water.
Location - River Park
Time - 9.30am - 2.30pm
Staff - All Year 4, 5 & 6 teachers will attend the day.
Coordination - AFL development staff will run the activities and games on the day. Mr Statham will be the organiser with the AFL staff on the day.
Uniform - Sports uniform
Lunch Orders - Students will need to pack their own recess, lunch and water. No lunch orders available.
Basic day structure
Morning session - Skill activities
Middle session - Skill activities and modified AFL games
End session - Modified AFL Games
CCC Open Girls Cricket Trials
Karly Woods was one of forty students in the state that was selected to attend the two day open girls CCC Cricket trials in Sydney.
This was a great learning experience for Karly and she has set herself training goals before next years trials.
2022 Sports Wrap
Thank you students, teachers and parents for contributing to an excellent year of sport at St Raphael's!! A video of our achievements is available here.
Looking forward to 2023 there are many exciting new opportunities being planned.
Fitness Centre with state of the art fitness equipment

New sport and PDHPE structure in secondary.

Continued participation in a broad range of community and diocesan sporting opportunities
2023 Swimming Carnival
The 2023 St Raphael's School Swimming Carnival (Year 3-12) will be held at Cowra Aquatic Centre on Friday, 3rd February, 2023. This is a compulsory school day and any student that is unable to attend will be required to provide a note or medical certificate explaining the absence. Further information is attached here. (This information will also be distributed again via Compass in the new year).
The carnival is a fun day with lots of water and land based activities for students that are not competitive swimmers. (Kindergarten, Year 1 and Year 2 will not be attending the swimming carnival. Year 1 & 2 will be participating in water activities at school. They will still be able to wear their school sports uniform or house colours to school for the day).
Lunch orders are available from the Cowra Aquatic Centre canteen but must be pre ordered. The order form and correct money must be returned to the school office by Tuesday 31st January 2023. Please see the attached menu.
Wellbeing
Year 11 Fundraiser
On Wednesday 14 December (when the canteen is closed) our senior students will be hosting a sausage sizzle to raise funds for those impacted by the Eugowra flood. Pre-Orders for primary have now closed - secondary orders are invited on the day.
Parent Talk
Parent Talk 2022 Issue 8 from the Council of Catholic School Parents is attached. Parent Talk
Help Seeking Resources for the Holidays
As we look forward to the Christmas Holiday period we need to remember it's also a time when children and young people don't have access to the usual routines and support available to them through your school community. Sharing a list of general help-seeking resources for the school holidays (attached) is a great way to normalise help-seeking and support your school community over the holidays.
https://docs.google.com/document/d/13iXUyvuY2KwE8hVHXJmd6S1I3nteOARhJnh2iyXXiLU/edit?usp=sharing
Community Connections
ABSTUDY Resources
Aboriginal and Torres Strait Islander students who are recent school leavers can continue getting ABSTUDY if they go on to higher education study or an apprenticeship.
Please see the following resources for further information:
If you know a brilliant 15-17-year-old, encourage them to apply to Rise.

Rise is a program that finds brilliant people who need opportunity and supports them for life as they work to serve others. The program starts at ages 15–17 and offers Global Winners access to benefits that last a lifetime including need-based scholarships, a fully-funded residential experience, mentorship, career development opportunities, funding, and more.