Term 3, Week 6 Newsletter - Monday 16 August 2021
Principal's Report
Dear Parents
St Raphael's Catholic School Cowra has been selected as one of three finalists in the 2021 Australian Training Awards School Pathways to VET Award.
As a finalist in this prestigious annual Award, St Raphael's has been shortlisted for its high-quality industry partnerships, significant engagement in School-Based Apprenticeships & Traineeships, the quality of its careers education & mentoring programs and excellence in the delivery of Primary Industries, Construction and Hospitality.
The School Pathways to VET Award recognises eligible organisations including schools, registered training organisations, group training organisations, industry bodies and employers that have collaboratively delivered one or more excellent vocational education and training (VET) programs to secondary school students.
The winner of the Award will be announced on Friday 18th November.
https://www.australiantrainingawards.gov.au/
I am pleased to make the announcement of the award of the annual St Raphael's Scholarship. The scholarship applies for two years and is for 100% of the Stage 6 School Fees. During term 2 all Year 10 students and their families were invited to apply for the scholarship. The process is that the trustees consider applications received, conduct interviews and select the candidate who most closely matches the set criteria. The Scholarship recipient for 2022/23 is Miss Melissa Mood.
COVID restrictions are changing rapidly and it's now in our diocese. The second week of the Trial HSC exams have been postponed, tonight's Parents and Friends Association meeting has been cancelled, the Primary Industries Excursion is postponed, the Todd Woodbridge Cup, Primary Athletics and Vinnies Winter Sleepout are postponed, the annual Book Parade will go ahead (hopefully) but without the parent audience, the annual Fathers Day Breakfast is cancelled for this year. Please remember, we are not stuck at home, we are safe at home. Stay safe and vigilant
The signs of the HSC approaching are very real. Trial exams are halfway through, major works are due for NESA assessment and our students are gathering (remotely) with colleagues from other schools for study days. We wish our HSC students clear focus and balance in the coming weeks.
Numerous applications for enrolment are being received - in fact, we have the highest secondary enrolment on record. In this planning stage we must know numbers in each year group very accurately to enable applications to be finalised and resources and staffing provided. If you have plans for next year and beyond that will impact the school, please let us know promptly.
Michael Gallagher
Principal
Faith & Life
The Feast of the Assumption 15th August
The Prayer Of Mary
My soul proclaims the greatness of the Lord,
my spirit rejoices in God my Savior
for he has looked with favor on his lowly servant.
From this day all generations will call me blessed:
the Almighty has done great things for me,
and holy is his Name.
He has mercy on those who fear him
in every generation.
He has shown the strength of his arm,
he has scattered the proud in their conceit.
He has cast down the mighty from their thrones,
and has lifted up the lowly.
He has filled the hungry with good things,
and the rich he has sent away empty.
He has come to the help of his servant Israel
for he remembered his promise of mercy,
the promise he made to our fathers,
to Abraham and his children forever.
(Lk 1:46-55)
Focus on Families
#Be Mary MacKillop Today
Last week each family received their take home kit #Being Mary MacKillop Today. If your family didn't receive theirs last week or today as the Workbook Pick Up, they will be posted to you.What better time for this project to be rolled out then during a lockdown period. I encourage you to take some time each week and complete the activities. We will collect the hearts when we return to school.
Take A Few For You Initiative:
For the rest of August while our #Be Mary MacKillop Today Initiative is on, we will press pause on the weekly Take A Few For You Videos. I encourage you instead to set aside some time as a family and use the #Be Mary MacKillop Today kit.
Helpful Prayer and Mass Resources:
There are lots of great online resources out at the moment for you to view and use. Here are just a few:
connect@home- This is a daily prayer resource based on the scripture readings of the day. It is produced by our own Diocese and written by our priests and deacons. Simply just go to the Bathurst Diocese website and register your interest to receive the daily email. https://www.bathurst.catholic.org.au
Live Stream Angelus: Each day the Parish of St Mary's, Mudgee live streams the Angelus at 12:00noon. Just head to their Facebook page and you will be able to view and pray along.
Live Stream Mass: Each day the Parish of St Mary and St Joseph's, Orange live streams daily Mass at 7pm. Head to their Facebook page to view.
I have also included a colouring in page. If you would like anything else to help out at home during this difficult time, please contact me via email(n.twohill-scott@bth.catholic.edu.au)
Mary, Mother of God, Pray for us
Mrs Nicole Twohill-Scott
Administration
Wellbeing
Talking Drugs with Paul Dillon - Vaping! (CSNSW Ref: 205/21)
Is your teen vaping? It may surprise you to know that many teens don't think vaping is harmful – but the pitfalls of engaging in this behaviour are many.
With increasing numbers of young people believing vaping to be harmless, it has become a growing issue for many schools.
In this podcast, Jennifer Coen (State Manager- Wellbeing CSNSW) talks to Paul Dillon about drugs, alcohol & vaping (duration 24 min).
To listen to the full podcast use this link: https://www.csnsw.catholic.edu.au/wp-content/uploads/2021/07/Paul-Dillon-Podcast.mp3?_=1
Canteen
With many thanks to Mrs Donna Stokes, the canteen will remain open this week (Monday, Tuesday, Thursday, Friday) for those students that are at school, but pre-orders of both morning tea, and lunch are essential. Please ensure that students put in their morning tea and lunch orders to the canteen by 9:30am each morning.
Curriculum News
St Raphael's presents our Children's Book Council of Australia Book Week Celebrations and Book Parade 23-27 August 2021.
The theme for 2021 is "Old Worlds, New World's, Different Worlds"
This celebrates the fantastical and imaginative worlds created by authors over time. Worlds of the future, the past and those created by creative minds for us to travel to.
Book Parade! Friday 27th August
Years K-6 Be inspired by the worlds of books!
Years 7-12 Each homeroom will choose and create together one world from well known books for the parade. Students will choose a character to come as, from the world their homeroom has chosen.
Please note: Due to Covid restrictions we are unable to have visitors for the parade but we will send a Zoom link so that you can join the fun!
Mrs Helen Flannery - Library

Semester 1 Awards - Secondary Assembly
Staff and students gathered on Wednesday 4 August to announce the Secondary Semester 1 Awards. Congratulations to all students recognised at this special event.
Secondary Academic effort awards were awarded to students who have maintained a consistent approach to their studies during the semester.
Substantial Academic Achievement Awards were presented to students who have achieved thorough or extensive overall grades across all of their subjects.
Diocesan Sporting Certificates
Throughout the Semester students had the opportunity to try out for a variety of sporting teams. The following students gained selection in Diocesan sporting teams.
Congratulations to the following sporting age champions for their outstanding results at the Swimming and Athletics Carnivals.
Semester 1 Awards - Primary Assembly
On Friday 6 August, staff and students gathered to celebrate Semester 1 achievements at the Primary Awards Assembly. Congratulations to all students recognised at this special event. Special acknowledgement also goes to Jack Thompson from Year 1 who was the Infant's Shining Star for the month. Great work Jack!
Semester 1 Merit Certificates were awarded to the following students who have applied themselves consistently across all subjects throughout Semester 1.
Diocesan Sporting Certificates and Sporting Age Champions
Throughout the Semester students had the opportunity to try out for a variety of sporting teams. The following students gained selection in Diocesan sporting teams.
Congratulations to the following sporting age champions for their outstanding results at the Swimming and Athletics Carnivals.
Prev
Showing images
1 - 8
of 10
Next
Year 3 Assembly Item
As promised in last week's newsletter, please enjoy this photo gallery, courtesy of Year 3 and their Week 4 Primary Assembly Item.
Positive Learning Behaviour - Primary
Congratulations to our primary students who have achieved the next level on our Behaviour Management Program.
Level 6
Ayrlee Flannery- 6 Gold
Level 7
Connor Frazer- 3 Gold
Gaella Gaju- 3 Gold
Claire Harrison- 3 Gold
Ava Douglas- 3 Gold
Thomas Bryant- 4 Gold
Ruby Lazanski- 4 Gold
Jack Parish- 4 Gold
Lucas Davies- 5 Green
Abigail Partridge- 5 Green
Maddy White- 5 Green
Sophie Richmond- 6 Gold
Hayley Parakkal- 6 Green
Your Teachers are very Proud of You!
Primary Award Recipients
Congratulations to our primary award recipients for Term 3, Week 5. Your hard work is resulting in great achievements!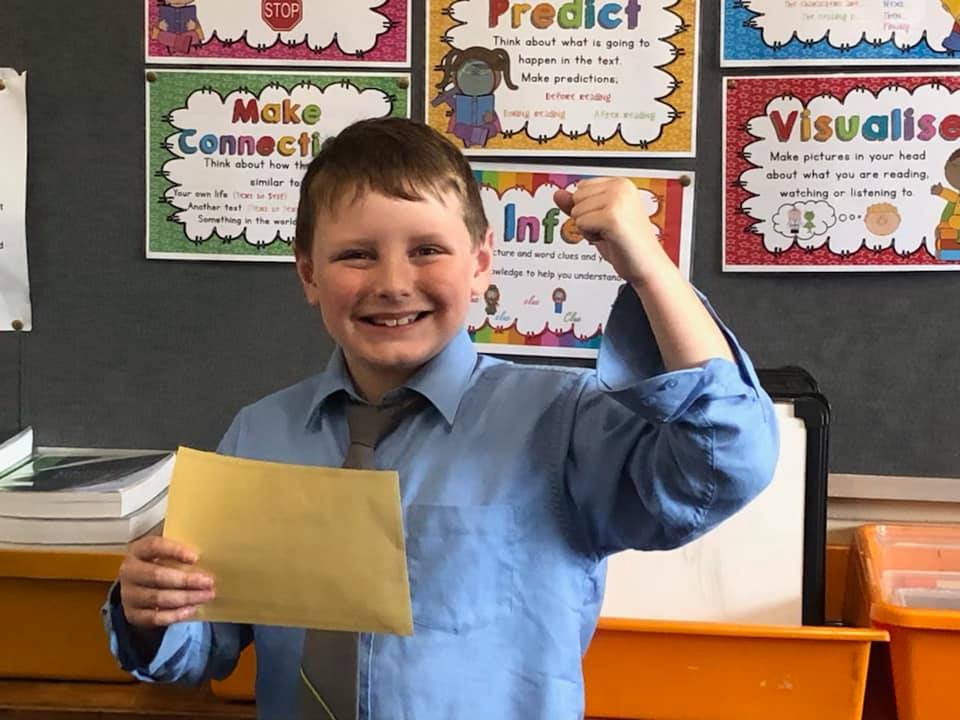 This Week's Birthdays
Monday 16 August
Happy birthday to Will Smith
Tuesday 17 August
Happy birthday to Will Campbell, Jack Campbell & Sophia Coombes
Wednesday 18 August
Happy birthday to Lucy James & Archie King
Thursday 19 August
Happy birthday to Cooper Freebairn & Charlotte Tindall
Friday 20 August
Happy birthday to Bobbi Curtale & Mathew Graham
And happy birthday to William Buik, Lachlan Johnstone and Sophie Clark who celebrate their birthdays this weekend!
Community Connections