Term 1, Week 10 - Monday 3 April 2023
What's On This Week
Principal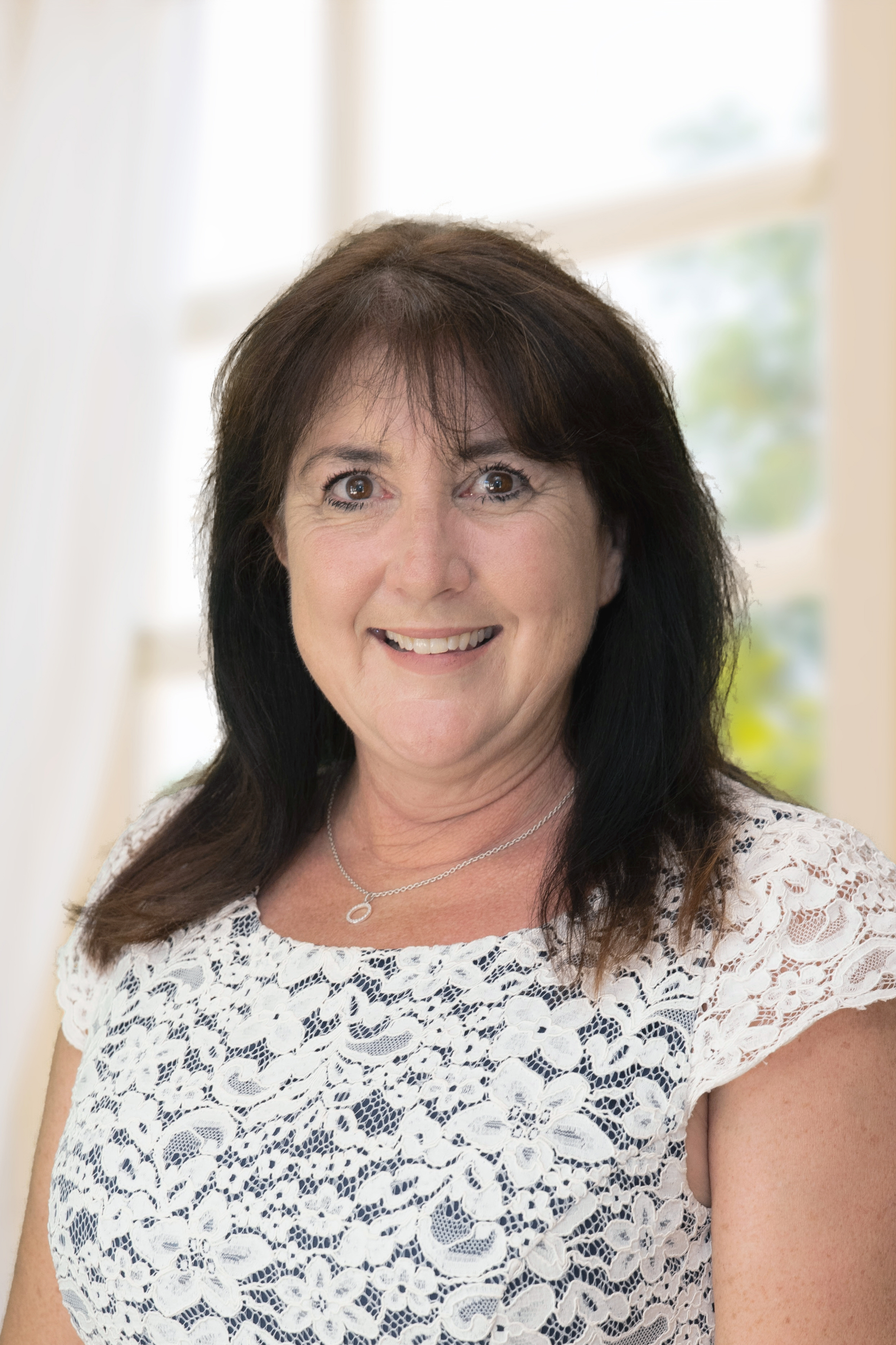 Dear Parents and Carers
As we approach the holidays, it is important that we communicate to our students the significance of Easter. It is a time when Jesus communicated his enormous love for us and the purpose he gives us. It is at this time that we are reminded that Jesus died and rose back to life so each of us can have a meaningful relationship with God. Jesus says, "I came that they may have and enjoy life, and have it in abundance [to the full, till it overflows]" (John 10:10b, AMP). We are challenged to truly live today and into the future. So over the Easter break we wish every family a time of abundant love and precious time together.
Last week the twilight professional learning enabled our staff to collaboratively share learning sprints they had conducted with their students, as well as plan for the next steps in our learning journey, with surface, deep and transfer teaching strategies being embedded into our programming.
This week we have two changes in leaders at St Raphael's. First, Kylie Mulholland is leaving us. Even though she has been at St Raph's for a short time, we are sad that she is leaving our community. Second, Andrew Phelan has stepped down from being the Leader of Learning Mathematics and PDHPE. We thank him for his dedication to the role over the last years. The Wellbeing Team position is being advertised, and Cassandra Bennett will be the Leader of Mathematics and PDHPE.
This term has been very busy, there have been many challenges as well as great moments of celebration. I hope every student has a wonderful rest, and rejuvenates for an exciting time of learning next Term. We look forward to seeing all students on Monday 24 April (looking great in their winter uniforms!), for the commencement of Term 2. A gentle reminder that the Canteen will be closed on the first day of Term 2, and will re-open with it's new Winter Menu on Thursday, Week 1.
God Bless,
Michelle Deschamps - Principal

Assistant Principal
Professional Learning @ St Raphael's
On the evening of Thursday 30 March, staff engaged in targeted professional learning centered around ensuring our students are engaging in complex work and in academic rigor. To address these areas the phased learning process of surface, deep and transfer learning was examined. Surface looks at one/multiple concept(s), the foundations of the learning. Deep focuses on how concepts are connected, a phase of consolidation, while Transfer deals with applying the learned concepts to new and unfamiliar situations. Research shows that students need to access all levels of the phase to ensure that students are engaged in changing expectations, situations and perspectives, and thus should not be exposed only to one phase or be limited to surface learning. Staff used examples and worked collaboratively, developing teaching strategies in a unit of work that provide pathways for surface, deep and transfer learning. Staff discovered that the process is not always linear but can begin at any phase and move through in any order.
Secondary Parent/Teacher/Student Discussions

Secondary Parent/Teacher/Student discussions will be held on Monday 1 May. Please go to your COMPASS parent portal to book a time to meet with your child's/children's teachers. When using Compass on your mobile phone, the conference cycle schedule may be accessed via the home screen by following the link to Parent Student Teacher Conference . Another option is to select More (bottom right hand corner) then Conference.
We are aware that many of our families are experiencing issues with the Compass Mobile App. While we wait for a fix on this issue, an option may be to log in via your web browser at https://straphaelscowra-nsw.compass.education/

Secondary Pupil Free Day - Friday 19 May
Families are advised that there will be a Pupil Free Day on Friday of Week 4 (19 May) for all Secondary Students, while staff engage in compulsory Professsional Learning - Trauma Informed Teaching Practices. This professional learning will provide staff with an introduction to trauma and how students with trauma backgrounds can be supported in the educational setting. There will be no supervision at school for Secondary Students on Friday 19 May.
Ben Thomson - Assistant Principal
Faith, Mission & Learning
In 2023 the school redesigned our Sports House Banners. As a school community, we believe it is important to acknowledge where our house names have come from.
Kilbreda, means 'community of St Brigid'. The qualities that represent the Community of St Brigid are acceptance, gentleness, loyalty.
Xavier, the Patron saint of Roman Catholic Missionaries. The qualities that represent St Xavier are empathy, innovation, and idealism.
Raphael, is from the Patron saint of Youth and Healing. The qualities that represent St Raphael are independence, strength and respect.
This term our students have been proudly following in St Brigids footstep by filling our little people with different ways they have been 'lifting others up'. We have filled in enough people to create wings. Students have been standing in the middle to symbolise 'lifting each other up'. It has been a creative and fun way to live out our 2023 theme, 'We Rise By Lifting Others'.
Gabrielle Bruin - Leader of Faith, Mission & Learning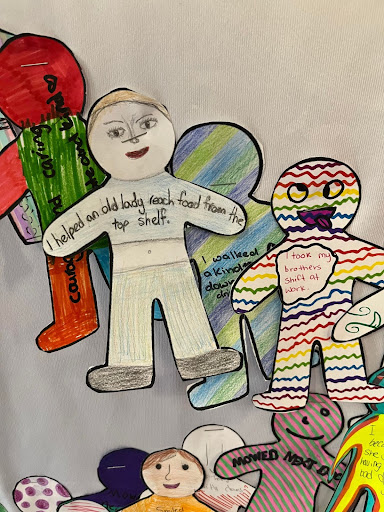 Catholic Observer - Now Online
The Catholic Observer Easter and Christmas magazines are available both digitally and in printed hard copy twice a year. Please follow the link here to see the Easter Edition. Catch up on regular Diocesan news via the Catholic Diocese of Bathurst website: bathurst.catholic.org.au
Learning Engagement
Kosciuszko Hike
On Friday 24 March, eight students from St Raphael's Catholic School set out on a hiking expedition in Kosciuszko National Park. The six Gold and two Silver Duke of Edinburgh Award participants commenced their hike at Dead Horse Gap, following the Cascade Hut Trail to Cascade Hut, which is an historic alpine hut. The students set up their tents and prepared dinner before a storm rolled in. Students quickly retreated to their tents to avoid the deluge of rain that followed. In the morning, the students hiked back to Dead Horse Gap, stopping at Bob's Ridge for lunch, taking in views of the Victorian Alps. After camping for the night at Ngarigo Campground on the Thredbo River, the students re-commenced their expedition in Thredbo by catching the Kosciuszko Express Chairlift to Eagles Nest. They then completed the Kosciuszko Summit Walk in trying conditions where visibility was limited to approximately 50m due to heavy fog and rain. Before reaching the summit, the students completed a side trip to Seaman's Hut on the Main Range. Seaman's Hut was built from stone in 1929 as a memorial to skiers Laurie Seaman and Evan Hayes. Supported by Miss Kelly Price and Mr Andrew Phelan, the students had a memorable experience and are already preparing for their next adventure.
Andrew Phelan - Duke of Edinburgh Award Coordinator

Learning Logistics & Pathways
Pathways Update
This year we welcome Mrs Ammie Broad into her new role of Aboriginal Education Worker.
Ammie has previously worked within our school's learning support team and brings her skills and friendly disposition to help support the careers development of our ATSI students.
Ammie joins our existing AEW, Mrs Kiri Hubber and myself, as our ATSI student pathways leader.
We have an exciting year ahead for our ATSI students, with many opportunities in the forms of SBATs, work experience and partnerships with our local PCYC.
In other careers news, many of our senior students are already applying for early entry opportunities with various universities. Term 2 will be busy as this process continues and the process of scholarship applications commences. Additionally, it's also the time of year that many employers start to look for 2024 apprenticeships.
Enjoy a well-earned break over the Easter period…ready for next term!
David Lette - Leader of Learning Logistics and Pathways
Learning - Primary
Kindergarten 2024 Enrolments Now Open!

Please see the following flyer regarding Transition to School Program for prospective Kindergarten 2024 enrolments, commencing with an information evening at 5pm on Tuesday 30 May 2023.
If your child will be joining us at St Raph's in Kindergarten next year, please let us know! We will include your details on our Siblings Enrolment list and make sure you receive all essential information in the lead up to Transition and Kindy Start.
Anne Hickman - Leader of Learning - Primary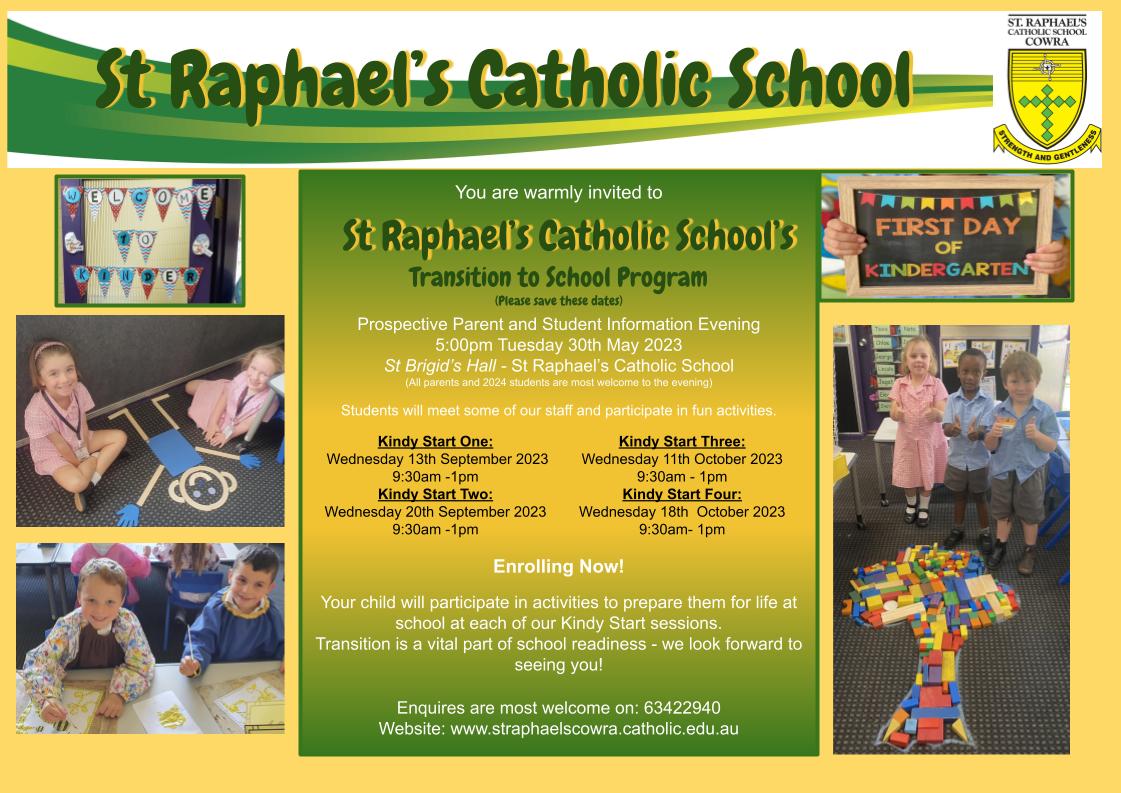 Pencil case supplies
Holidays are a great time to restock pencil cases. Please ensure your child/ren have all the requirements ready for a fresh Term 2 including glue, scissors, lead pencils, ruler, pens etc.
Infants Writing

Year 2 have been reading Hello Lighthouse by Sophie Blackall and we have written descriptive and compound sentences using the book as our inspiration. We have also made story mountains to show the climax of the narrative. Here are some of our awesome sentences of our story mountains.
The lighthouse was standing tall on the island while shining over the sea. - Evelyn
The lighthouse was standing tall on the cliffs while the waves crashed on it. - Franky
My lighthouse is tall, it shines brightly and it keeps ships safe at night. - Violet
The lighthouse was standing tall on the island and shining over the sea. - Rohan
The lighthouse was standing tall on the island after the wild storm. - Lucy
The lighthouse was standing tall on the island while the waves splashed high. - Sophia
My lighthouse is big and bright. - Madison
The lighthouse was standing tall on the island so it was not knocked over. - Jack
Year 2 have also been writing statements about loneliness, and share some of their pieces here: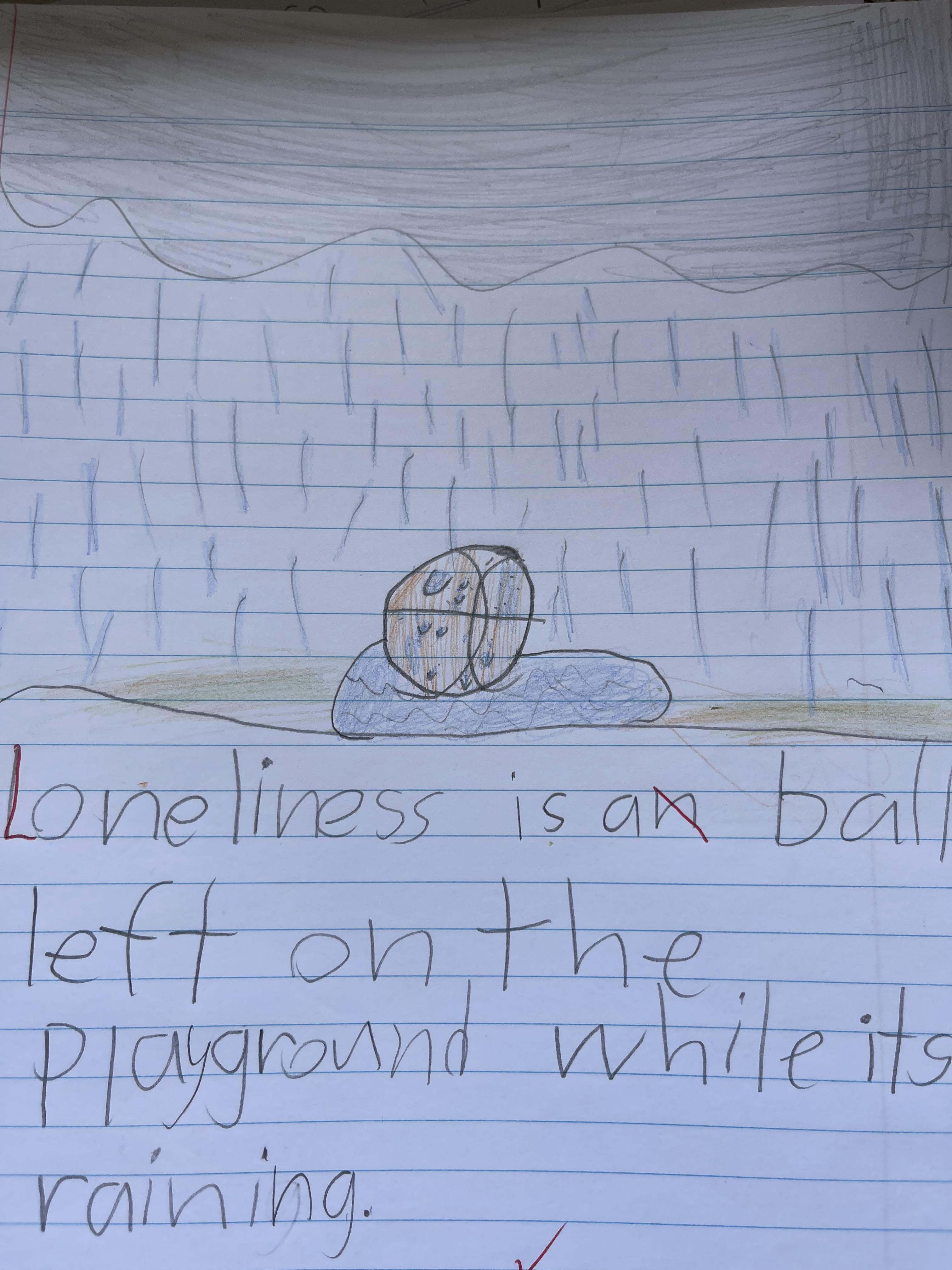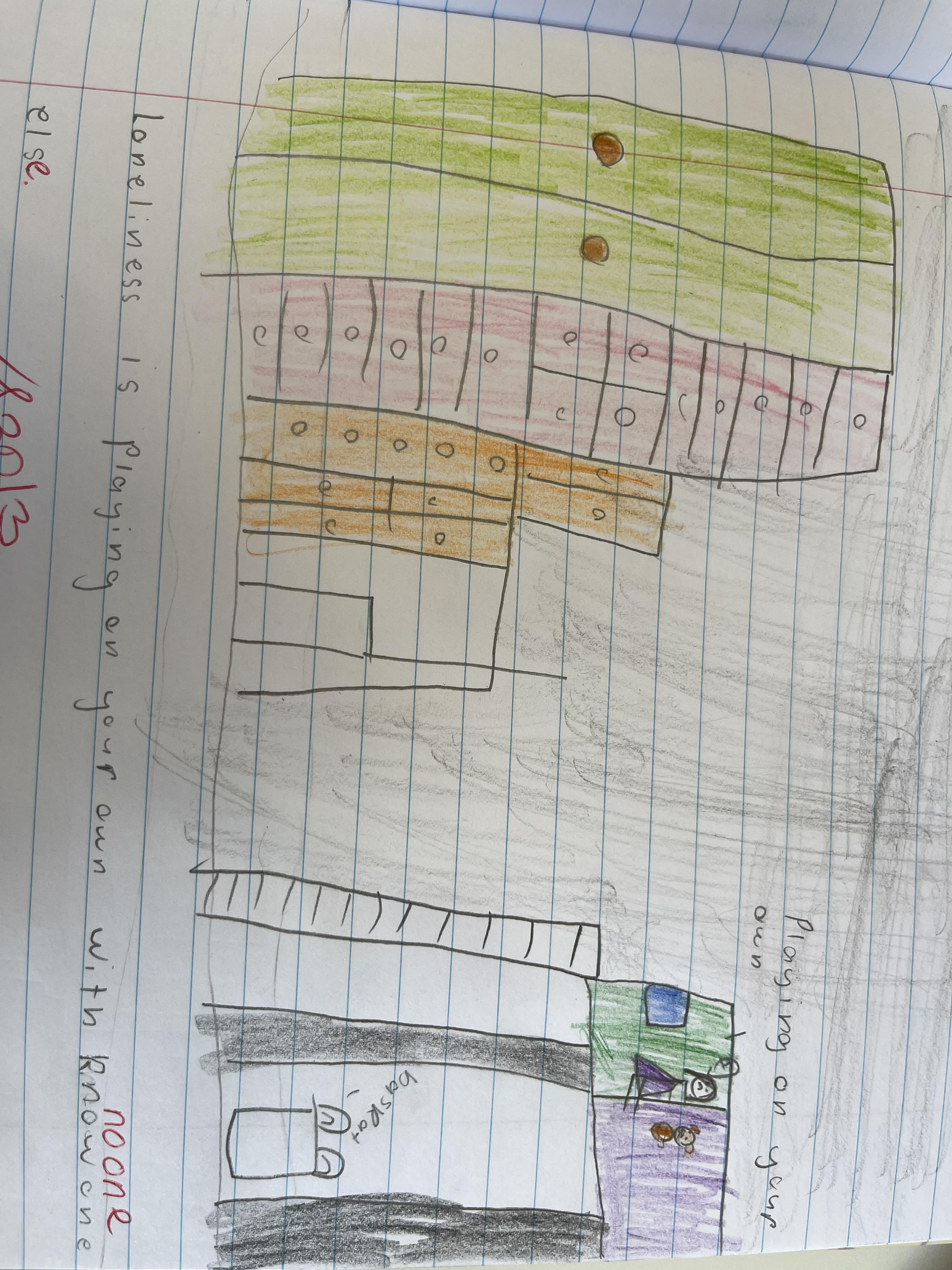 Administration
Head Lice Don't Take Holidays!

From time to time we have an outbreak of head lice at the school and we have recently been made aware of head lice present in the hair of infants students. Please check your child's hair for head lice tonight using the methods recommended by NSW Health. If you find any eggs or lice, please commence treatment as recommended, and re-treat again after 7 days to ensure any outbreak is short lived. Information regarding the treatment of head lice is available at
https://www.health.nsw.gov.au/environment/headlice
2022 Year Book
The 2022 St Raphael's Catholic School Year Book has now been distributed to families via the eldest or only student at the school (as at 2022). Families that have not yet received their 2022 Year Book are asked to please contact Administration.
ABSTUDY RESOURCES

ABSTUDY can help support high school students, including families whose children are living at home, via support with school fees and school materials like uniforms, textbooks and stationery. It's not too late to claim ABSTUDY support for the 2023 school year. For more information, follow the following links:
ABSTUDY for students living away from home
Sport
School Secondary Athletics Carnival on Thursday 4 May.

Secondary Basketball Diocesan Gala Day in Bathurst on Monday 1 May. Selected students will be notified. Parent consent and $18 payment due via compass by 25 April.
Secondary Diocesan Cross Country on Wednesday 10 May. Registrations must be completed at csnsw.sport website with payment by Wednesday 3 May.

NSWCCC Boys Rugby (U16's) selections are on 26 & 27 April.
NSWCCC Boys Rugby (U18's) selections are on 26 April.
NSWCCC Girls Rugby 7s (18's) selections are on 27 April. Representative players need only apply for NSWCCC Rugby teams. Registrations must be completed at csnsw.sport website with payment by Friday 14 April.
Andrew Phelan - Secondary Sport Coordinator
Primary Sport
This Thursday 6 April Year 3-6 will participate in a NRL skills development session.
Polding Touch Football Trials
Congratulations to Finn for being selected in the Diocesan Touch Football team. Finn participated in the trials last Tuesday 28 March. His team played five games and won 3 of them. Finn had a great day playing football with his mates, and displayed great skill and enthusiasm. We congratulate Finn on his achievements!
Chris Colemane - Primary Sport Coordinator
Canteen
Canteen Closed 1st Day of Term 2
Families are advised that the Canteen will be closed on the first day of Term 2, Monday 24 April. In light of the Anzac Day Public Holiday, and the Canteen not opening on Wednesday's, the Canteen will re-open for Term 2 on Thursday 27 April with it's new and revised Winter Canteen Menu (please see here).
Changes to Term 2 - Winter Menu
Families are advised that there are changes to the availability of hot lunch items on the Canteen Menu, effective Term 2. Sandwiches, wraps, rolls and gluten free options will remain available while certain hot items will only be available on specific days of the week. These changes are to make operations more manageable for Mrs Stokes and our small (and declining) number of volunteer helpers.
Monday - Chicken Schnitzel Wraps/Burgers
Tuesday - Soup or Chicken Tenders (with or without fried rice)
Thursday - Hamburger/Mini Cheese Burger or Chicken Noodle Stir Fry
Friday - Nachos or Fried Rice
The new Term 2 Winter Canteen Menu is provided here.
This week's canteen roster is as follows
Tuesday 4 April - Lisa Mallon

+ HELPERS PLEASE

Wednesday 5 April - CLOSED
Thursday 6 April -

Kylie Kollas, Anna Thirkell

+ HELPERS PLEASE
Friday 7 April - GOOD FRIDAY (SCHOOL HOLIDAYS) - CLOSED

Monday 10 April - Friday 21 April SCHOOL HOLIDAYS
TERM 2:
Monday 24 April - CLOSED

Tuesday 25 April - ANZAC DAY PH - CLOSED

Wednesday 26 April - CLOSED

Thursday 27 April -

HELPERS PLEASE

Friday 28 April -

HELPERS PLEASE
If you would like to speak with Donna about joining the Canteen Volunteer team in 2023, please call her on 0427 501 508 or register your interest here.
Community Connections
First Nations Tennis Player Financial Assistance Application
Tennis NSW is committed to providing financial assistance for four (4) First Nation athletes through the ATP Cup Legacy Fund. This assistance is for eligible individuals seeking support for their participation in Tennis. This is a one-time funding opportunity for First Nations people to be supported through the ATP Cup Legacy Fund.
To be eligible, participants must:
- Register as a member of "Yarning all Things Tennis" Tennis NSW's First Nations Tennis Networking Group
- Registered on Tennis NSW First Nations Database
- Age between 10 years - 21 years old (as at 1 Jan 2023)
Successful applicants can receive 1 x $500 to support their tennis participation.
The grant's primary objective is to make tennis participation opportunities more accessible to Aboriginal and Torres Strait Islander people.
The First Nations Tennis Player Financial Assistance Application is open from 07/03/2023 and will close at 9.00am on 1/05/2023.