Term 2, Week 6 - Monday 29 May 2023
What's On This Week
Principal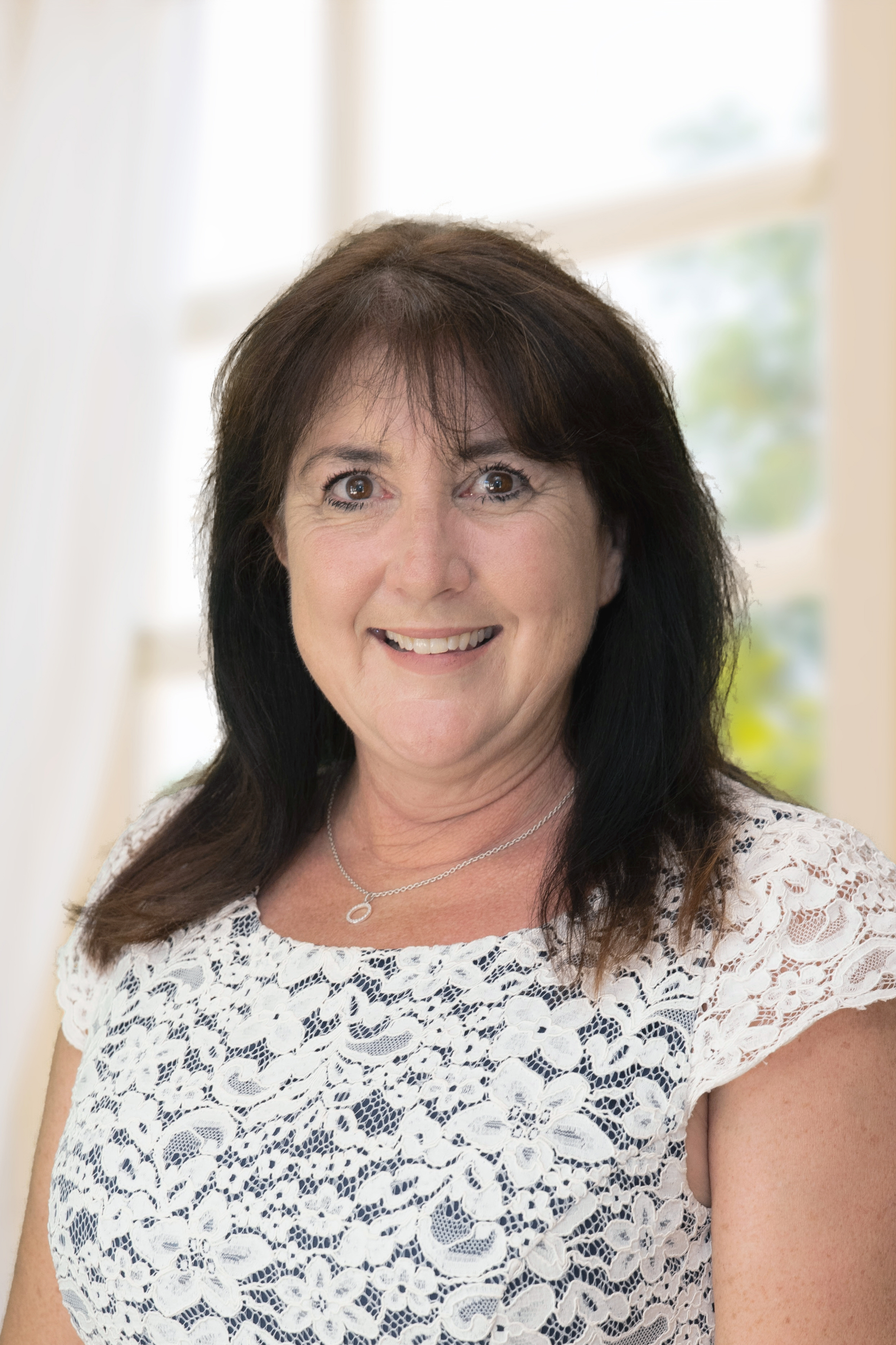 Dear Parents and Carers,
National Reconciliation Week commenced with a beautiful Mass celebrated as a school last Friday. It is a joy to see the participation of our students in Mass and the respect they give to the occasion.
Over the last week in the Cowra Eisteddfod and Dio Spelling Bee, we had many students organised in numerous categories in verse, dance, song and drama. The students achieved numerous accolades, resulting in the school being awarded the Cowra Bus Service Point Score Trophy as the most successful school over all disciplines. The Eisteddfod, gave students of all abilities the opportunity to develop performance skills, and enabled students to develop increased confidence, commitment, teamwork skills and self esteem. Bravo to all students!
As we head into winter, it is important for students to maintain attendance. It is very appealing to stay rugged up at home on cold days. Whilst it is important to stay home when a student is unwell, sustained attendance is not only a legal obligation for parents, it is also imperative to sustain consistency for our learners. When a student is absent for one day, they miss 5 hours of learning. I am sure you would be aware that catching up on 5 hours of learning on top of the next day's learning, is a big ask, and likely not to happen. If a student is flagging with absences, we are obliged by law to send home attendance letters. The letters are a reminder of the extent of absences a student is exhibiting. Continued absences means that students and their parents may be required to participate in an attendance plan. Ultimately, we encourage every parent to ensure their child is at school every day.
Each year parents are sent uniform expectations. Students and staff are also reminded throughout the year. It is imperative that we sustain consistency in regards to school expectations for uniform. The St Raphael's Catholic School's Uniform Procedure follows in this newsletter. Our students are acknowledged in Cowra for being exemplary students, and many people comment to me about the uniform worn with pride by our students. It is important that students continue to wear their uniform with pride and parents support our school by ensuring students leave home adhering to school expectations. We thank the many students who are role models for the wonderful student body at St Raphael's.
Over the last week, NAPLAN trials have been conducted in secondary schools. ACARA is trialling a new platform. The results are not collated, and do not amount to anything. The supervisor from NESA, left us with a glowing report about our wonderful students during the tests. This is testament to the wonderful students we have at St Raphael's.
Have a wonderful week!
God Bless,
Michelle Deschamps - Principal
Assistant Principal
Professional Learning

On Friday 26 May secondary teachers attended a professional learning day focusing on Trauma Informed Teaching Practice. The learning provided staff with an introduction to trauma and how students with trauma backgrounds can be supported in the educational setting. Staff developed understanding of the various types and presentations of trauma, and developed an understanding of how to support students presenting with trauma through the implementation of trauma informed teaching strategies.
They were introduced to strategies that can be implemented to support whole class groups, as well as individual students with trauma backgrounds, leading to more informed teaching practices and positive outcomes for students. In the afternoon staff developed resources that they can implement directly into classroom practice.
Upcoming Pupil Free Days – whole school K-12
Friday 30 June– Neurodiversity and learning
Friday 21 July – Implications of the new curriculum reform
Ben Thomson - Assistant Principal
Faith, Mission & Learning
Last Friday we gathered for National Sorry Day to acknowledge and recognise members of the Stolen Generation and the mistreatment of Indigenous Australians.
We encourage you to pray the Aboriginal Creed at home:
We believe in God, creator and sustainer of life,
creator of the black woman and the white woman,
of the black man and the white man,
of the woman who is not quite black and not quite white,
of the man who is not quite white and not quite black.
We believe in God, the Creator
Who gave us the desert pea and the flowering gum,
The Murray cod and the platypus,
The Southern Cross and the Milky Way.
We believe in God,
who gave us a land to keep, to reverence and to cultivate.
We believe in Jesus, born of a woman
Who was not quite black and not quite white,
A woman who was not quite sure of who she was or who she was to be,
A woman who faithfully struggled to believe.
We believe in Jesus – risen,
Liberator of all humanity, Emmanuel, God-with-us, God-for-us.
We, women and men of the Great South Land of the Holy Spirit.
Gabrielle Bruin - Leader of Faith, Mission & Learning
Learning Logistics & Pathways
Term 2, 2023 Sports Uniform Days for Secondary
David Lette - Leader of Learning Logistics & Pathways
Learning Engagement
Secondary Cultural Sharing Group
Our Cultural Sharing group have resumed Aboriginal dance on Wednesdays. This is held during secondary learning plus with Mr Chris, Mrs Hubber and Mrs Broad.
Cowra Eisteddfod
Congratulations to all who participated in the Cowra Eisteddfod over the last few weeks. It was a huge commitment to attend rehearsal one lunch time a week and we thank those students who attended and the teachers who helped out.
A big thank you also to Jess Kirwan and Sammi MacCabe who volunteered their time and worked so hard with our dance groups. The students really enjoyed the opportunity to participate.
CWA Spelling Bee
Congratulations to the students who travelled to Wellington to participate in the CEDB Spelling Bee last week. Special congratulations to Noah Campbell who won the Stage 2 section and Cohan Howden who came runner-up in the Stage 5 section.
Group Instrument Lessons
Any students interested in group instrument lessons on either guitar or brass and woodwind instruments please contact Mrs Lisa Flanagan via compass. These lessons are a great opportunity for private lessons but in a group environment at a reduced rate! Open to primary and secondary students.
Learning - Primary
Kindergarten 2024 Enrolments Now Open!

Please see the following flyer regarding Transition to School Program for prospective Kindergarten 2024 enrolments, commencing with an information evening at 5pm tomorrow, Tuesday 30 May 2023.
If your child will be joining us at St Raph's in Kindergarten next year, please let us know! We will include your details on our Siblings Enrolment list and make sure you receive all essential information in the lead up to Transition and Kindy Start.
Anne Hickman - Leader of Learning - Primary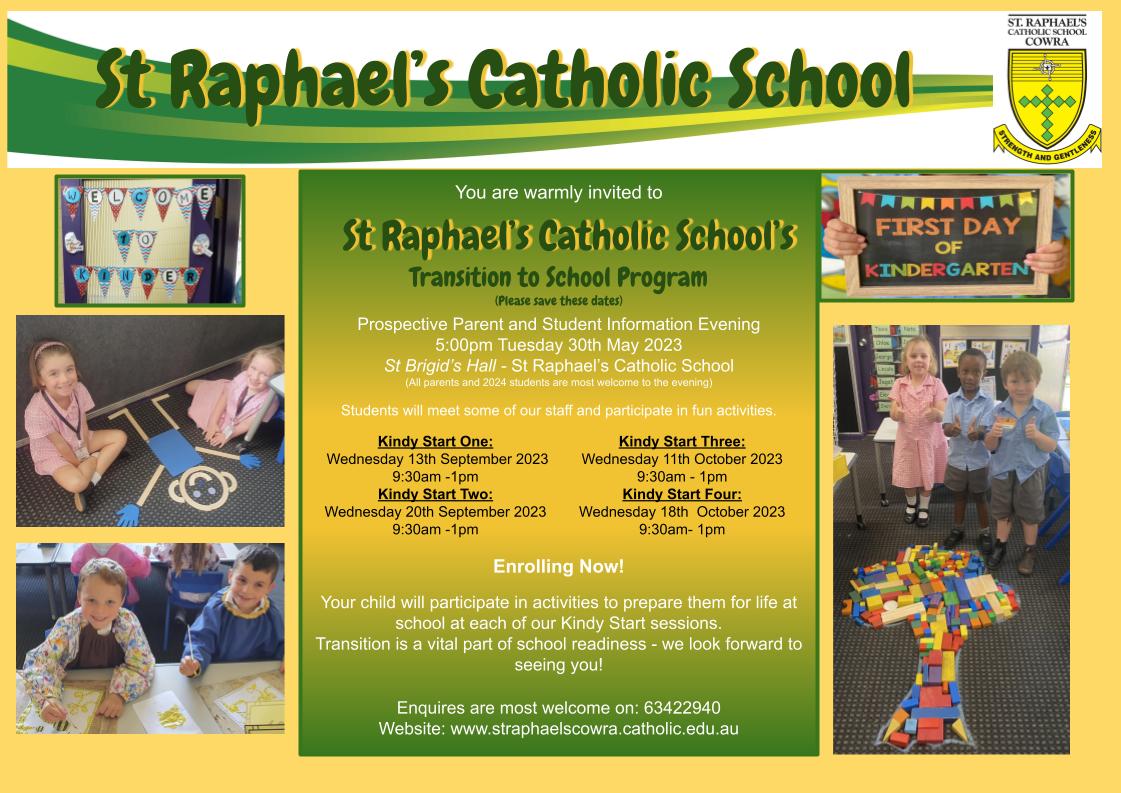 Administration
School Fees
Term 2 school fee statements have now gone out. Please note that if you do not have a direct debit, BPAY or Centrelink payment plan in place, all arrears need to be settled immediately. If there are any queries or you are experiencing any financial difficulties, please do not hesitate to contact me on my email g.chamberlain@bth.catholic.edu.au or by phoning me on the school number 6342 2940. Thank you.
Genieveve Chamberlain
Uniform Procedures
St Raphael students wear their uniform with pride, maintaining an excellent appearance which promotes a strong sense of belonging. The correct wearing of the uniform promotes the school in our community and allows students to understand and be able to adhere to professional standards.
It is expected that students adhere to the points below in order to maintain a neat and tidy appearance:
Jewellery is to be limited to the following:
The wearing of one ring.

Necklaces are permitted but must be worn under the uniform.

Earrings must be sleepers or stud earrings only.

Stud earrings should be no bigger than the ear lobe.

The number of piercings should be limited to two per ear.

Clear piercings must be worn for piercings other than the ear.



Makeup is to be kept to a minimum.

Hair must be kept to a neat, clean and tidy cut. Hair should also be tied back if past the shoulder in length.

Male students are to be clean shaven.

Footwear must be enclosed black leather.

Nail polish should be clear or neutral.

Tattoos must be covered by the uniform at all times.

The school backpack is a compulsory item (progressive introduction 2020 - 2025)
Scholastic Book Club
Issue 4 of Scholastic Book Club has gone home to Primary families this week. Orders are due back in to the office (or completed online) by Friday 9 June.
Canteen
The soup of the week is Cauliflower
This week's canteen roster is as follows
Tuesday 30 May - Jodie Toohey

+ HELPERS PLEASE

Wednesday 31 May - CLOSED
Thursday 1 June -

HELPERS PLEASE

Friday 2 June - Michelle Wydmuch, Jess Newcombe

+ HELPER PLEASE



Monday 5 June - Briony Woodhouse +

HELPERS PLEASE

Tuesday 6 June - Stefanie Bray

+ HELPERS PLEASE

Wednesday 7 June - CLOSED

Thursday 8 June - Anna Thirkell +

HELPERS PLEASE
Friday 9 June - Charlene Williams

+ HELPERS PLEASE
If you would like to speak with Donna about joining the Canteen Volunteer team in 2023, please call her on 0427 501 508 or register your interest here.
Community Connections