Term 3, Week 7 Newsletter - Monday 23 August 2021
Principal's Report
Dear Parents
In the light of the lockdown being extended by a week, I am writing to encourage you to stay steady and balanced in this strange time. Children will take their cue from the adults around them - productive, balanced adults are great models for productive, balanced children. These days need to have some learning time, some helping time, some playing time and some resting time - use the flexibility to your advantage.
Students working via Google Classroom will have daily check-ins, some inspiring and fun tasks prepared by teachers - again use the flexibility to your advantage, stay engaged with learning and stay connected with one another, even if it is virtually.
Year 12 students have the second week of their trial HSC exams this week. These exams have been modified to suit the new situation. Please keep these students in your prayers as they get through their second COVID challenge in their senior schooling.
The teachers and support staff are here to help you and your family. If you are concerned about anything related to learning or wellbeing, please reach out.
Laura and David Moodie are blessed with the birth of another son. There is celebration in the St Raphs family.
Above all, stay safe and take care of one another.
Michael Gallagher
Principal
Faith & Life
Your words Lord, are spirit and life.
Bringing us closer to you.
Amen
What's On This Week
Focus on Families
#Be Mary MacKillop Today
I hope everyone is making good use of the Take Home Kits during this time of lockdown. This week's theme is all about being generous. One way to show your generosity is to donate to the Vinnies Winter Appeal. Simply log onto https://donate.vinnies.org.au/winter-appeal to make a donation.
Helpful Prayer and Mass Resources:
There are lots of great online resources out at the moment for you to view and use. Here are just a few:
connect@home- This is a daily prayer resource based on the scripture readings of the day. It is produced by our own Diocese and written by our priests and deacons. Simply just go to the Bathurst Diocese website and register your interest to receive the daily email. https://www.bathurst.catholic.org.au
Live Stream Angelus: Each day the Parish of St Mary's, Mudgee live streams the Angelus at 12:00noon. Just head to their Facebook page and you will be able to view and pray along.
Live Stream Mass: Each day the Parish of St Mary and St Joseph's, Orange live streams daily Mass at 7pm. Head to their Facebook page to view.
Live Stream Sunday Mass: There are a few of our Bathurst Diocese Parishes who are now live streaming Sunday Mass. They are Mudgee, Orange and Bathurst.
I have also included a grid produced by the St Vincent dePaul Society (Vinnies) the link to it is.https://drive.google.com/file/d/1ipBsEqdSvruiUxyS7fNe5l6e5lrZjNhB/view?usp=sharing . It has lots of ideas of practical suggestions you might like to complete as a family. If you would like anything else to help out at home during this difficult time, please contact me via email (n.twohill-scott@bth.catholic.edu.au)
St Mary of the Cross, Pray for us
Mrs Nicole Twohill-Scott
Kindy Start 2022
Unfortunately due to the statewide lockdown, The Kindy Start Parent Information Session scheduled for this Thursday has been postponed. The Kindergarten Teachers are currently preparing a series of informational videos which will be sent to all parents and carers early next week. Information regarding a new date for a face to face information session will be communicated as soon as possible.
Thank you for your understanding of this matter, and please do not hesitate to contact the School if you have any questions about the commencement of your child in 2022.
Administration
School Fees
There are still some unpaid accounts. Unless other arrangements have been made with the school, these accounts are now due. If you require assistance with a payment plan, require a copy of your statement or need to arrange a meeting with the Principal to discuss fee relief options, please contact Genevieve Chamberlain at g.chamberlain@bth.catholic.edu.au Thank you.
Compass Login
It has never been a more important time to stay connected with your school. The Compass Parent Portal remains St Raphael's primary source when it comes to communicating key information to parents and carers. Parents can access the Compass App at any time via their own personal username and password and we encourage all families to make sure they have access to this tool. Please contact Casey or Kristy at the school office if you require a password reset, or would like instruction on how to make best use of the Compass Parent Portal.
Wellbeing
This week has brought about changes to learning within our school community and families. As you are settling your children into at-home learning, or supporting your children in participating in online learning at school, there may be an increase in anxiety being felt in differing ways by each member of your family. This is a completely normal response to the changes we are experiencing. If you or anyone in your family is feeling some angst around changes to at-home learning, please don't hesitate to contact your child's teacher/s or Wellbeing staff at St Raphael's during this time.
If you are interested in accessing school counselling support for your child, new referrals are able to be made by:
Primary Students– parents can contact Renae Downes for information and referral forms.
Secondary Students – parents and students can contact me directly by email at michelle@centacarebathurst.com.au to organise the completion of a referral form.
A great way to understand stress and the impacts that it can have on our wellbeing is through the Stress Bucket. Follow the link to find out more. Additional tips for Home Learning, practicing mindfulness and managing routines have been provided below, from our Secondary Wellbeing Department.
Canteen
With many thanks to Mrs Donna Stokes, the canteen will remain open this week (Monday, Tuesday, Thursday, Friday) for those students that are at school, but pre-orders of both morning tea, and lunch are essential. Please ensure that students put in their morning tea and lunch orders to the canteen by 9:30am each morning.
Sport Spot
Southern Region Athletics Carnival - Primary
Last week it was decided that the Southern Region Carnival would be cancelled for 2021. A Southern Region Squad to compete at the Diocesan Carnival will now be selected based on the times, heights and distances from each school's Athletics Carnival. This will be completed this week. I will notify students who are successful via Compass email. The Primary Diocesan Carnival is to be held on Friday 10th September in Dubbo. Obviously the Carnival will only take place if current COVID Restrictions have eased. I will endeavour to keep you updated.
Secondary Diocesan Athletics Carnival
If the current COVID restrictions are eased the Diocesan Secondary Athletics Carnival will take place on Thursday 9th September in Dubbo.
Curriculum News
Cooking in Kindergarten
Kindergarten were treated to a special surprise last week, with Mrs English and Mrs McLennan. We made scrambled eggs with the eggs collected from the chickens at school. We added some beautiful native herbs and spices that Mrs Hubber gave us that Indigenous people have been using for thousands of years, and continue to be used in recipes today. Kindergartens' favourites were Geraldton Wax and Strawberry Gum but we decided to use the Saltbush and it was delicious.
Mrs Kathy English and Mrs Julie McLennan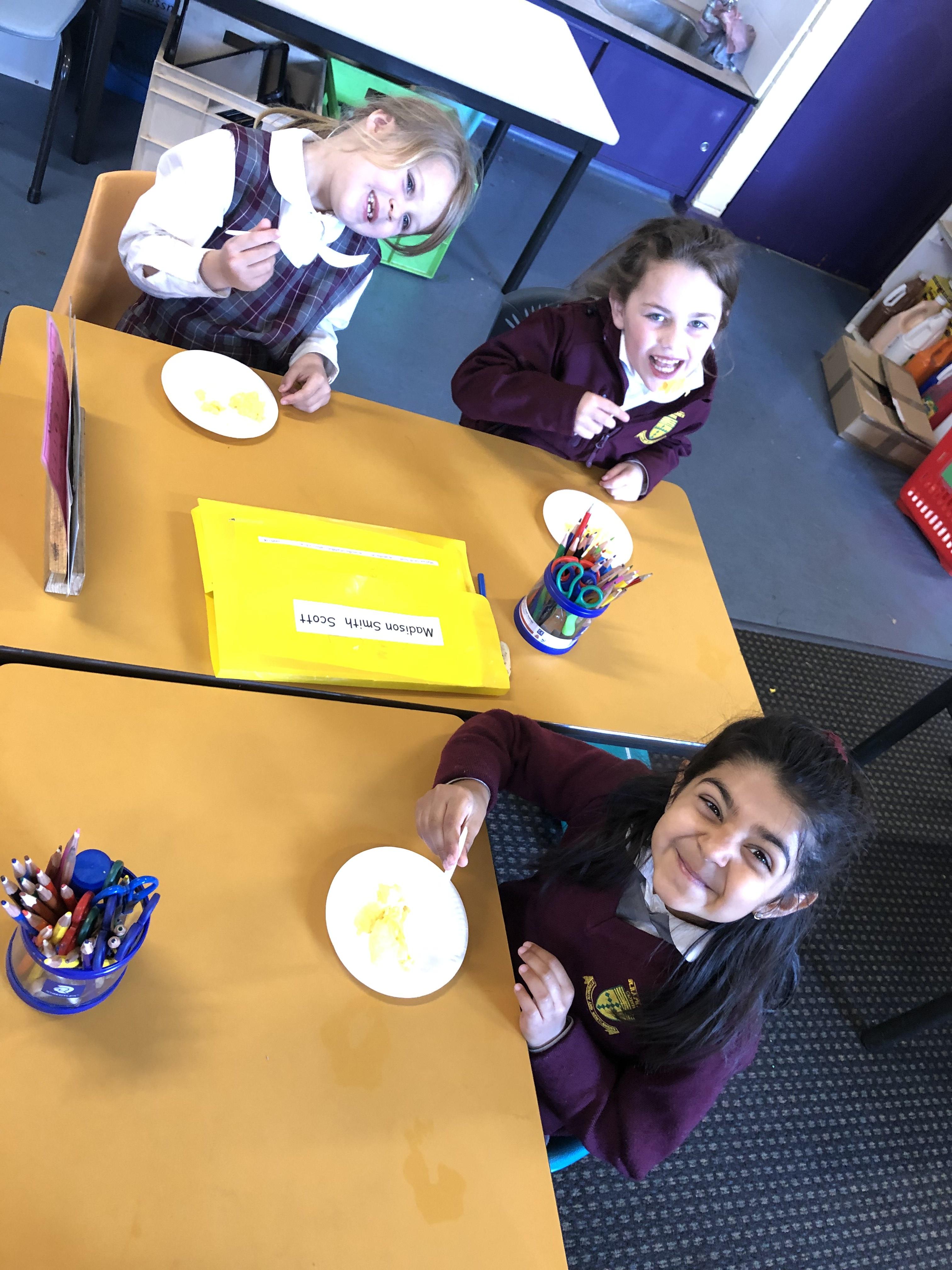 Infants Activities
Last week, Years 1 and 2 travelled to Mount Fuji, Japan thanks to the wonders of Green Screen!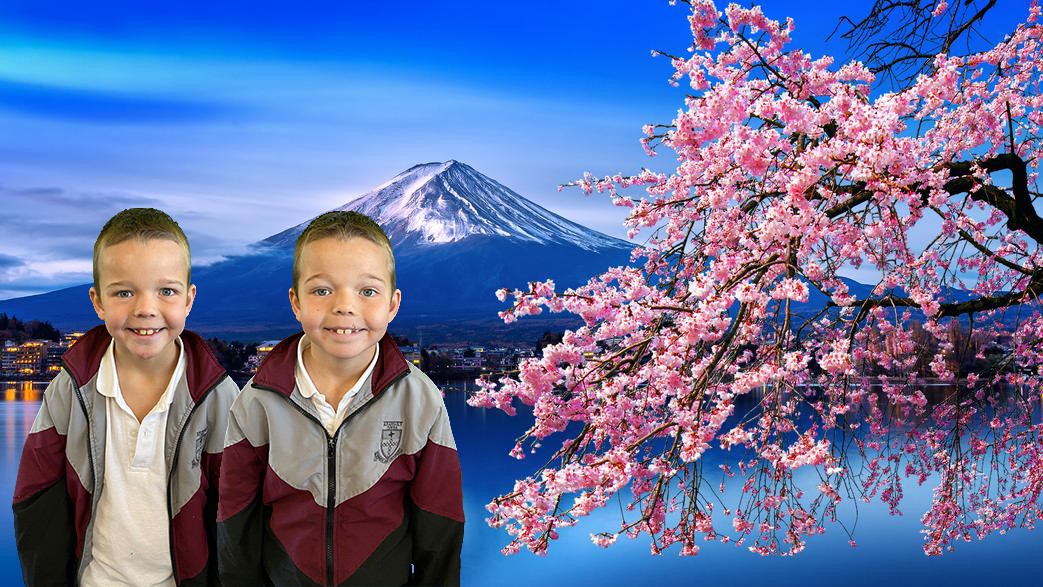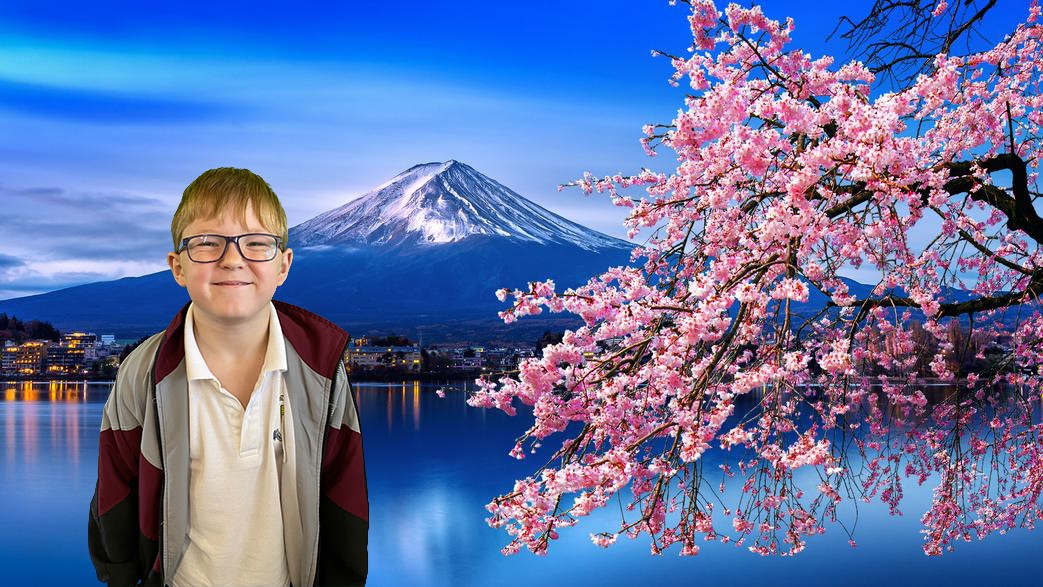 Prev
Showing images
1 - 8
of 9
Next
Our boys in Year 2 have been learning about fractions, and Kindergarten have been moving their bodies and making music with their handmade shakers.
Australian Training Awards
St Raphael's Catholic School Cowra has been selected as one of three finalists in the 2021 Australian Training Awards School Pathways to VET Award.
As a finalist in this prestigious annual Award, St Raphael's has been shortlisted for its high-quality industry partnerships, significant engagement in School-Based Apprenticeships & Traineeships, the quality of its careers education & mentoring programs and excellence in the delivery of Primary Industries, Construction and Hospitality.
The School Pathways to VET Award recognises eligible organisations including schools, registered training organisations, group training organisations, industry bodies and employers that have collaboratively delivered one or more excellent vocational education and training (VET) programs to secondary school students.
The Australian Training Award interviews are being conducted early this week. These interviews are from an external assessor to gauge the reality of the claims we made in our submission. The winner of the Award will be announced on Friday 18th November.
https://www.australiantrainingawards.gov.au/
A Day in the Life of Home Learning
What does learning look like for your kids right now? Most would agree it requires an adjustment to routine and expectations. It is undoubtedly a challenging time as we all juggle family life, work and schooling, more often than not in isolation. It is impossible to be all things to everyone at once.
For many families however, home learning provides an opportunity for flexibility and fun throughout the day. As these wonderful photos show, it is an excuse to take a breather and get 'hands on' with craft projects or cooking, mix things up with helping at home and online interaction, and connect with teachers and friends through Google Classrooms.
Whatever shape learning takes for your family right now, please know that you are all doing an amazing job! The teachers and staff at St Raphael's appreciate your support and are working right alongside you and your children as we navigate this tricky time.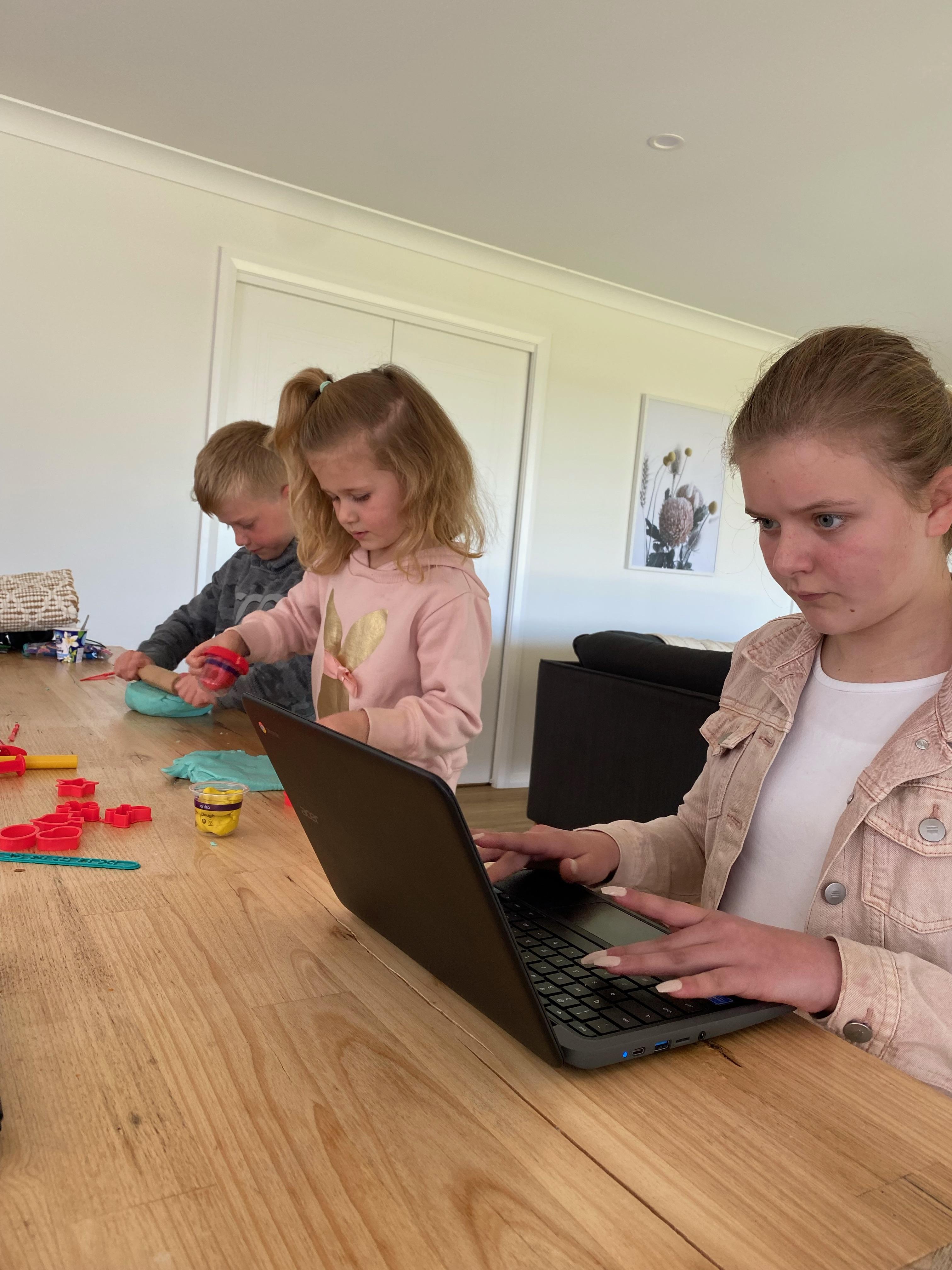 This Week's Birthdays
Monday 23 August
Happy birthday to Savannah Morgan
Tuesday 24 August
Happy birthday to Harriet McColl & Ava Woods
Wednesday 25 August
Happy birthday to Akiko Beatty & Alex Kelly-Shepherd
Thursday 26 August
Happy birthday to Felicity Bowen-Chambers
Friday 27 August
Happy birthday to Rylee Frazer
And happy birthday to Shania Booker, Lara McIntyre & Madelyn McIntyre who celebrate their birthdays this weekend!
Community Connections