Term 2, Week 4 - Monday 15 May 2023
What's On This Week
Principal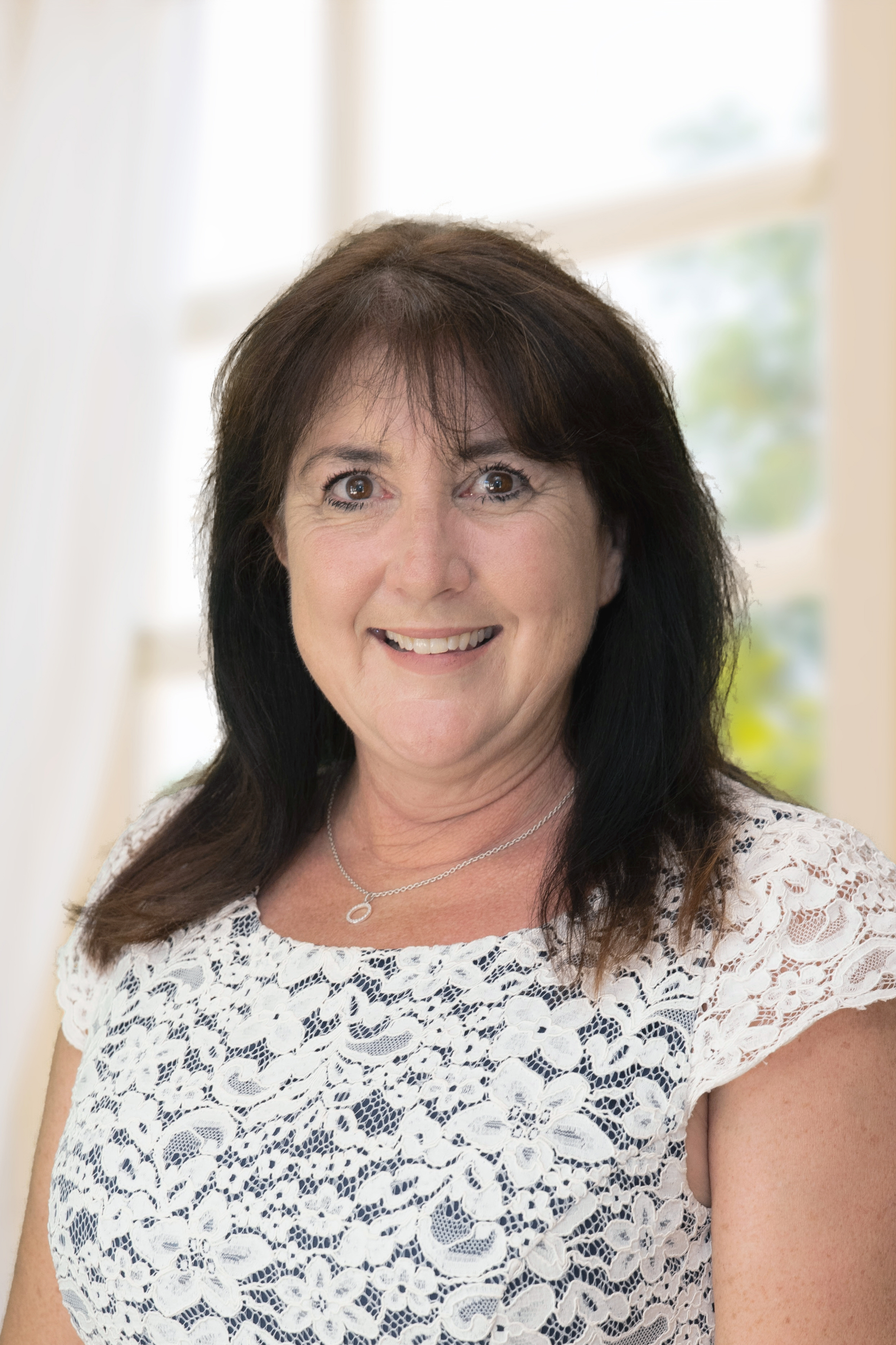 Dear Parents and Carers
Happy Mother's Day to our mothers, guardians and carers. You each make a monumental impact in the lives of our students. It is the enormous impact that mothers make which we recognise in our prayer at St Raphael's every day at 12pm by saying The Angelus, as a community. This prayer recognises the enormous impact Mary is in the life of Jesus, and consequently in being the mother of Jesus, Mary plays an enormous role in our Catholic faith. So to all our mums, guardians and carers, we acknowledge your importance and know that you are in our focus every day at 12pm.
Last week CEDB conducted our cyclic 5 year review at St Raphael's. The review involved representatives from all stakeholders staff, students and parents, as well as a deep dive into curriculum and other areas of significant compliance. For staff, students and parents who gave up their time for the forum groups, and the many staff who had CEDB personnel visit their classrooms, we thank you! The process was invaluable in highlighting the excellent progress we have made since 2018. Whilst we have been given a brief overview of the review, the full report will be available to us in a few weeks and will form our Improvement Plan for the next 5 years.
The learning journey our staff have undertaken, and continue to consistently progress, has highlighted the extent of impact for our students and their learning. Learning walks in the classroom reiterated that students have clarity in their learning, and could articulate what they are learning (learning intentions) and how to be successful (success criteria) across all classes. Also the engagement in all classrooms by our students was exemplary. This is testament to the wonderful teachers and students we have at St Raphael's. So we are on the right path with our learning journey. Our motto in this work is to 'go slow to go fast' and ' going deeper not wider'. Our goal is steadfast in wanting clarity, consistency, common language and opportunities for students to extend their skills via surface, deep and transfer knowledge and skills.
In particular students highlighted their love for their education at St Raphael's and acknowledged the enormous care they receive from staff, as well as the solid impact their education has in empowering them as they embark on the world. Also our 2023 motto is echoed in our students desire "to rise by lifting others" as they want to make a significant impact in numerous social justice activities.
One of our huge success stories acknowledged at the review, is our Portfolio for Life Program. This program was launched at the end of 2022, and is already demonstrating significant impact in the engagement and success of students who find it hard to be engaged at school. For each student involved, we have seen increased commitment to school, enormous happiness and a massive change in attitude and aspirations for the future. CEDB has stated that this program is cutting edge and innovative. They have stated that no other school offers anything like this in CEDB schools, and also it is among the top schools in the state, seeking to ensure we meet students where they are at, and enable success for all.
This program is also supporting our Cowra community, as our students are becoming invested in many areas of employment in our area, and in turn businesses are able to train our young people from Year 9, before they leave school. The program will make it more likely that our young people stay in Cowra with their developed skills, and in every case so far, they are employed by the employer who is seeing their School Based Traineeship through. So the students in the program achieve an early qualification and obtain their RoSA.
We are truly blessed to have an outstanding new teacher in our school, who is congratulated on achieving the following:
Lauren Allen has not only graduated from the University of Wollongong in the last holiday break, as a Dean's Scholar, but has been acknowledged for her high academic excellence. She will be recognised at the UOW Faculties evening at an annual Prize evening on June 28.
Lauren has been awarded the Mathematics Association of NSW Teacher Education Student Prize - Secondary Education. This prize recognises outstanding student teachers in their final year of secondary education study. Congratulations Lauren!
And last, but by no means least, I am pleased to announce that I have been approved to advertise for a second teacher for Year 3. At this point it will be temporary, with the view to sustaining the class numbers so it can be a permanent role in the future. The position will be advertised on the CEDB site shortly.
God Bless,
Michelle Deschamps - Principal
Faith, Mission & Learning
Charity, solidarity, outreach and action for justice are all important to St Raphael's Catholic School. All secondary year groups are encouraged to participate in a service or justice initiative each year. All initiatives contain an element of reflection and are explicitly connected to Catholic Social Teaching, teaching of and witness to our Catholic Christian tradition, scripture and the mission of Jesus.
Our Year 9 students are currently raising awareness of the implications of bullying through the Do It For Dolly Campaign. Students and teachers wore blue accessories to school on Friday 12 May. Year 9 also plans on talking about the implications of bullying at our next assembly.
On Friday 12 May our Year 10 students participated in their Retreat. The theme of the retreat was 'Stepping up into Leadership'. School retreats/reflection days are an integral part of the life-long faith formation of young people.
The program for the retreat was based on the values and mission of our school and included:
What is leadership

Qualities of leaders

Examining personal qualities and talents

Decision making

Making better choices

Becoming role models

Goal setting
Gabrielle Bruin - Leader of Faith, Mission & Learning
Learning Logistics & Pathways
Pathways Update
Year 12 attended the Central West Careers Advisors Association Careers Market on Friday 5 May. The event was held at Charles Sturt University (Bathurst) and included a range of post-school opportunities from Universities, TAFE, Defence, Policing, Private Colleges, and a number of local employers. Special thanks to Mr Thomson for driving the bus, which handled a "not so hot lap" of Mount Panorama nicely!
Applications to university are open and those senior students interested in university studies are currently focused on applying for scholarships. TAFE applications for 2024 open on May 15.
Students in Years 10 & 11 have started engaging in work experience options. Any other students interested are encouraged to see me.
David Lette - Leader of Learning Logistics & Pathways
Learning Engagement
Secondary Cultural Sharing Group
Our Cultural Sharing group have resumed Aboriginal dance on Wednesdays. This is held during secondary learning plus with Mr Chris, Mrs Hubber and Mrs Broad.
Eisteddfod Success
Congratulations to Hazel and Vivienne who achieved fantastic individual results in the Speech and Drama Section at the Cowra Eisteddfod. Hazel was awarded the 'Most Successful Local Competitor' and '8 Years and Under Point Score' trophies. Scoring first place in 3 solo sections, first place in a duo poem section and highly commended in another duo section.
Vivienne scored first place in one solo section, 3 highly commended, first place in the duo section and highly commended in another duo section. Well done girls!
Duke of Edinburgh Award (First Aid)
Congratulations to our Bronze Duke of Edinburgh Award students, who after 13 weeks of training have now completed their Royal Life Saving NSW First Aid Certificate. Well done Ella, Zoe, Hannah, Mathew, Emma, Deakin, Cohan, Imogen & Addison. The group will now spend the next 13 weeks training for long distance running with the goal of participating in the 5.3km Dingo Dash at the Dubbo Stampede Running Festival in August.
Learning - Primary
Kindergarten 2024 Enrolments Now Open!

Please see the following flyer regarding Transition to School Program for prospective Kindergarten 2024 enrolments, commencing with an information evening at 5pm on Tuesday 30 May 2023.
If your child will be joining us at St Raph's in Kindergarten next year, please let us know! We will include your details on our Siblings Enrolment list and make sure you receive all essential information in the lead up to Transition and Kindy Start.
Anne Hickman - Leader of Learning - Primary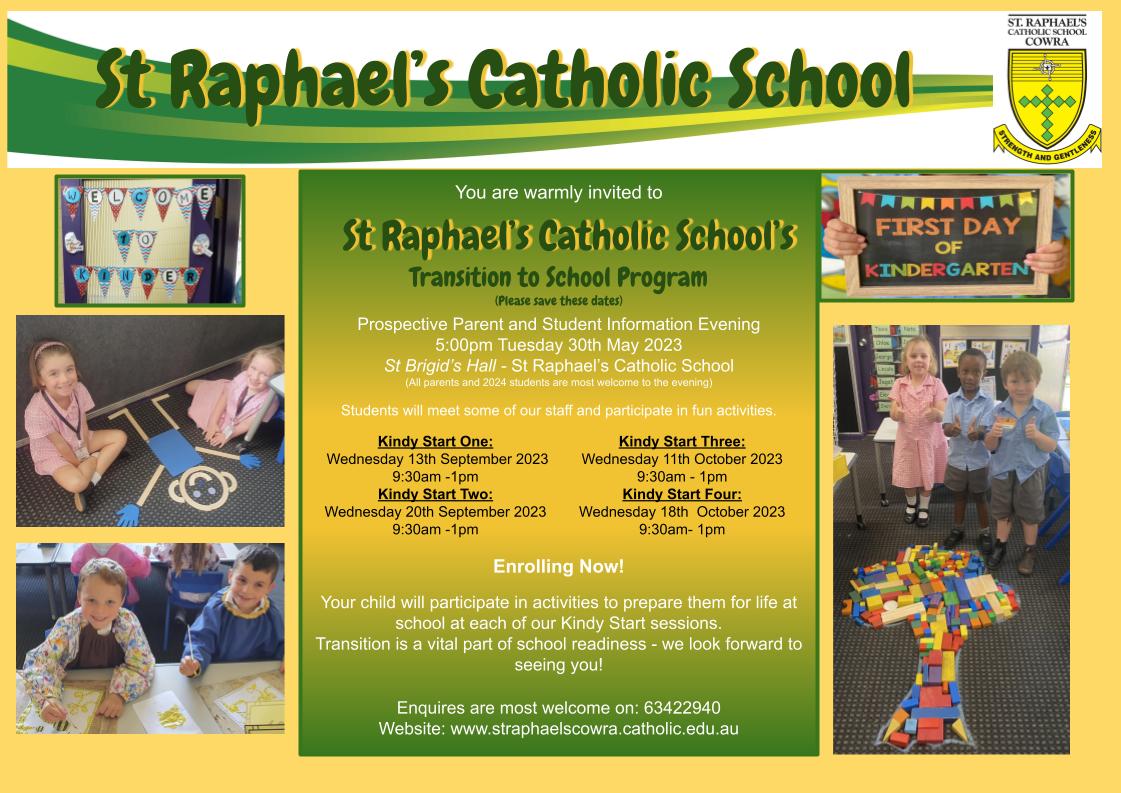 Cowra Eisteddfod
Secondary Band:

This Wednesday 17 May, the Secondary Band will be performing at the Cowra Eisteddfod. They will be performing in the 9:30am session at the Cowra Civic Centre. The group will be departing school via the school bus at 9am sharp and full winter uniform is required.
Infants and Primary Choir:

This Friday 19 May, the Infants Choir and the Primary Choir will be performing at the Cowra Civic Centre. Both groups will be departing school at 9am sharp. Full winter uniform is required. Not all students volunteered for these choirs so check with your child if they are involved. Primary students auditioned in class, and they know who they are. Any infants student wishing to participate is encouraged to do so.
Infants and Primary Dance:
On Wednesday 24 May from 10am the Infants and Primary dance groups will be performing at the Cowra Civic Centre. Our thanks to Jess Kirwan who has given up many lunch times to prepare our dance groups for this event. The outfit requirements for both groups have now been finalised and are listed below.
Requirements for the Infants and Primary Eisteddfod Dance Groups.
Infants Girls - Bright and colourful T-shirt. Denim or black shorts. Hair in slicked back high ponytail, neat and tidy. If you have short hair, just a half up/halfdown pony tail.
Infants Boys - Hair slicked back. Black shirt. Black shorts or leggings. Jess will supply a bright vest.
Primary Girls - slicked back, high pony tail, neat and tidy. If you have short hair, just a half up/halfdown ponytail. Black leotard or singlet/top. Black leggings (as used in lion king or similar). White Dress shirt (school shirt is fine). Jess will supply a hair ribbon.
Primary Boys - hair combed neatly. Black top. Black shorts or leggings.
Please note that we are not expecting families to purchase items, and ask that you just do your best to have your child dressed to fit the theme. If you have any concerns please let us know and we will be able to assist with loan items where necessary.
Cowra Eisteddfod Schedule
Session : Morning Wednesday, 17 May 2023 at 9:30 AM
110
SECONDARY SCHOOL POP/JAZZ Band


Session : Morning Friday, 19 May 2023 at 9:30 AM
006
EARLY STAGE 1/STAGE 1 SCHOOL VOCAL Choir (not less than 20 voices)


007
STAGES 2 & 3 SCHOOL VOCAL Choir (not less than 20 voices)


Session : Late Morning Wednesday, 24 May 2023 at 10:00 AM
550
KINDERGARTEN - Yr 2 DANCE (any kind) School Group


551
PRIMARY SCHOOL Yrs 3-6 DANCE (any kind) School Group


552
SECONDARY SCHOOL YRS 7 - 10 DANCE (any kind) School Group


554
SECONDARY SCHOOL OPEN DANCE (any kind) School Group


Reading Homework
Congratulations to those students Years 2-6 who are working hard at their reading and completing their 20 minutes every day.
Group Instrument Lessons
Any students interested in group instrument lessons on either guitar or brass and woodwind instruments please contact Mrs Lisa Flanagan via compass. These lessons are a great opportunity for private lessons but in a group environment at a reduced rate! Open to primary and secondary students.
Sound Scouts Hearing Screener Reminder for Kindergarten and Year 1
The Australian Government Department of Health has funded a new app called Sound Scouts which can be used for children over 4 years of age up to adults.
As part of our support program at St Raphael's, we would like to introduce this to our Kinder and Year One students. The assessment only takes 5-10 minutes to complete and is administered using an Ipad and headphones with 1:1 teacher assistance. We will be commencing the assessments on Tuesday of this week.
If you haven't already done so, click on the link to watch a three and a half minute video for more information. Sound Scouts for Schools
If you do not wish for your child to have this simple hearing screener then please contact the school to advise otherwise.
Administration
Secondary Pupil Free Day - Friday 19 May
Families are advised that there will be a Pupil Free Day this Friday 19 May for all Secondary Students, while staff engage in compulsory Professsional Learning - Trauma Informed Teaching Practices. This professional learning will provide staff with an introduction to trauma and how students with trauma backgrounds can be supported in the educational setting. There will be no supervision at school for Secondary Students this Friday 19 May.
School Fees
Term 2 school fee statements will go out this week. Please note that if you do not have a direct debit, BPAY or Centrelink payment plan in place, all arrears need to be settled immediately. If there are any queries or you are experiencing any financial difficulties, please do not hesitate to contact me on my email g.chamberlain@bth.catholic.edu.au or by phoning me on the school number 6342 2940. Thank you.
Genieveve Chamberlain
Canteen
The soup of the week is Cauliflower
This week's canteen roster is as follows
Tuesday 16 May - Ben Cooley

+ HELPERS PLEASE

Wednesday 17 May - CLOSED
Thursday 18 May - Kylie Kollas

+ HELPERS PLEASE
Friday 19 May - Michelle Wydmuch

+ HELPERS PLEASE

(Secondary Pupil Free Day)



Monday 22 May -

HELPERS PLEASE

Tuesday 23 May - Stefanie Bray

+ HELPERS PLEASE

Wednesday 24 May - CLOSED

Thursday 25 May -

HELPERS PLEASE
Friday 26 May - Michelle Wydmuch

+ HELPERS PLEASE
If you would like to speak with Donna about joining the Canteen Volunteer team in 2023, please call her on 0427 501 508 or register your interest here.
Primary Sport
St Raphael's Athletics Carnival - Primary
The St Raphael's sports committee was excited to be able to hold the Primary Athletics Carnival. The weather and grounds were beautiful and set the tone for a fun and competitive two days. Staff were proud to watch students' willingness to engage in events as many recorded personal bests.
Diocesan Primary Cross Country
St Raph's students did themselves and their school community proud as they recently competed in the Primary Dio Cross Country Event at Coolah.
Our team showed great enthusiasm and team spirit. Congratulations to all competitors and thankyou to those families who made the long journey to support our students.
A special shout out to Will O'Reilly who placed 3rd in the 9 years category and will travel to Sydney next month for the NSWCPS Polding Cross Country Championships. Way to go, Will!
Diocesan Primary Rugby Union Trials
This Friday the following students will trial at the Primary Diocesan Rugby Union Trials. Finn Sheehy, Rowdy Causton, Max Holmes, Sam Harris, Nick Green and Thomas Stephenson. We know that these boys will make our school proud and we wish them all the best with their trial.
Secondary Sport
What a massive two weeks of sport it has been at St Raphael's Catholic School.
Secondary Diocesan Cross Country
Eight students travelled to the Secondary Diocesan Cross Country at Mt Canobolas. Well done to Harry, Joshua (Year 7), Laura, Sophie, Toby (Year 8) Seamus, Laura and Aidan (Year 10). Laura and Laura placed in the top six of their respective events and now progress to the CCC Cross Country Championships to be held at the Sydney International Equestrian Centre later this term.
Soccer Officials
We are extremely proud of Kai Fitzgerald (Year 11), Dominic Bryant (Year 7) and Tyler Morgan (Year 8) who were asked to officiate the Round 1 match of the PSSA Soccer Competition between Canowindra Public School and Cowra Public School. It is great to see three young boys taking an interest and excelling in the officiating aspect of sport.
Secondary Diocesan Teams Tennis
Our school was proudly represented at the Secondary Diocesean Teams Tennis Competition. The competition was set against a chilly Orange backdrop and included some hot rallies that had the audience enthralled. Whilst our school put up a valiant effort, we were sadly not victorious. Officials were generous in their praise of our students, all of whom played their best and displayed very positive sportsperson behaviour. Congratulations to our representatives: Laura Bennett, Evie Green, Isabella Lette, Owen Holmes (Year 8), Aidan Green, John Van Rheede and Laura Price (Year 10) and Elliott Bennett (Year 11).
Olympics Unleashed
Year 7-10 students were thrilled to welcome Nick Trimmings from Olympics Unleashed. Nick represented Australia at the 2022 Beijing Winter Olympics in the sport of Skeleton Racing. He had all students completely engaged with his stories of trials, failure, perseverance and sources of encouragement. His big message was to DREAM your OWN dreams and don't let go of them!
Secondary Athletics Carnival
We were truly blessed with amazing weather for the Secondary Athletics Carnival.
Age Champions were Fiona Monssen (Under 12), Emma Tremble & Samuel Tydd (Under 13), Sophie Phelan & Toby Morrison (Under 14), Karly Woods & Wyatt Thomson (Under 15), Laura Price & Seamus McCormick (Under 16), Alyvia Slade & Kyan Heidke (Under 17+).
We had an incredible five records broken on the day: Laura Price (Javelin, High Jump & Triple Jump), Karly Woods (High Jump), Toby Morrison (Triple Jump).
House point winners were Raphael on 524 points, followed by Kilbreda on 478 points and Xavier on 272 points.
Students will be notified shortly if they were successful in qualifying for the Secondary Diocesan Athletics Carnival to be held in Dubbo on Thursday 17 August.
Prev
Showing images
1 - 8
of 12
Next
Bill Turner Cup Soccer
Our Under 15s Girls and Boys soccer teams competed in the Bill Turner Cup Soccer Competition in Forbes. The girls lost their Round 1 game which was tightly contested against Cowra High School School 4-3 and then played a friendly game against Red Bend Catholic College which they lost 4-2. The girls had a number of players on their team that have never played soccer before and should be extremely proud of their efforts. The boys played brilliantly to defeat Cowra High School 2-1 in Round 1 of competition, progressing to Round 2 of the Bill Turner Cup that was held later in the day. The boys lost this game to Parkes High School (4-1). I can't wait to see what these young teams can achieve next year. Thank you to Mr Phelan and Mr Colemane for coaching the teams.
Bathurst Diocesan Basketball Gala Day
Our junior and intermediate Basketball teams competed in the Bathurst Diocesan Basketball Gala Day at Bathurst Sports Stadium on Monday 1 May. Both teams had a great day competing against some very tough opposition. The junior team finished the day with two wins. Thank you to Mr Lowe and Miss Price for coaching the teams.
Community Connections
The Council of Catholic School Parents NSW/ACT is excited to be able to continue to provide our families across NSW and the ACT with opportunities to build their capacity to support their child's learning.
We are delighted to present Corey Tutt OAM, proud Kamilaroi man and the 2020 Young Australian of the Year for NSW to read a section of his book, The First Scientists to our children and young people.
Parents and carers are encouraged to register for this online event and, on the evening of 30 May, from the comfort of their home, they can connect with us online to hear Corey read to their children.
REGISTRATIONS OPEN MONDAY 8 MAY
The first 100 families to register will receive a FREE copy of the book "The First Scientists" to read along at home.